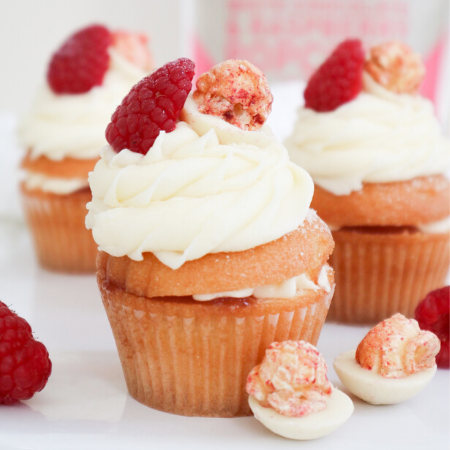 This luxurious White Chocolate & Raspberry Cupcake recipe by @LittleLuxuryFoods is perfect for treating your loved ones this weekend! Handmade with love using our brand new White Chocolate & Raspberry Popcorn Bites, they are sure to impress!
Ingredients:
Cupcakes:
- 100g Butter
- 100g Caster Sugar
- 100g Self-Raising Flour
- 2 Eggs
- Pinch of Baking Powder
Buttercream Topping:
- 75g Butter (Softened)
- 150g Icing Sugar
- Splash Of Milk
- Raspberry Jam / Chia Seed Jam
- Joe & Sephs White Chocolate & Raspberry Popcorn Bites
- Fresh Raspberry (halved)
Method:
- Pre-heat your oven to 170 fan. Line a cupcake tin with cupcake cakes and set to one side.
- In a large bowl, mix the butter and sugar together until light and creamy.
- Sift in the flour and baking powder, then add in the eggs one at a time. Mix all the ingredients together until they form a smooth batter - don't overmix.
- Pour into the cases and bake until golden and fluffy (around 10-15 mins).
- Remove cupcakes once cooked and leave to cool.
- Meanwhile, make the buttercream by; Mixing together the butter, icing sugar and milk until smooth.
- Once the cupcakes have cooled down, slice the tops off (where the cake meets the top of the cupcake case) and place about a teaspoon of the Raspberry jam in and top with a little butter cream too before popping the top of the cupcake back on top.
- Spoon the buttercream into a piping bag and pipe the icing on top of the cooled cupcakes and decorate with Joe & Sephs White Chocolate & Raspberry Popcorn Bites and fresh raspberries. Sprinkle with a little icing sugar too. ENJOY!