WE'RE OPERATING AS USUAL! PLEASE KEEP PLACING YOUR ORDERS ☺
Peanut Butter & Chocolate Cups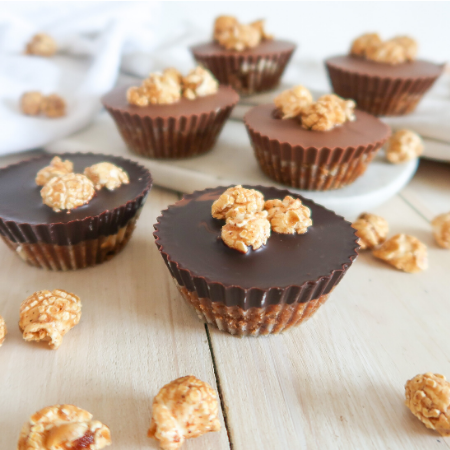 These Vegan Chocolate Cups make deliciously decadent treats that are oh-so simple to make! Brimming with oats, dates and our Vegan Salted Caramel Popcorn they are the perfect vegan and guilt-free indulgence to enjoy! This delightful recipe was created by @Snackx4me!
Ingredients: Makes Six:
Chocolate Cups
10 medjool dates
Tbs smooth peanut butter
Few drops of madagascan vanilla essence
Handful of dry roasted peanuts
Tbs breakfast oats
Tbs tahini
Topping
Topped off with chocolate
Method:
Mix up all the Chocolate Cups ingredients together, adding the tahini last until a thick paste forms.
Add the mixture into a baking tray and push down into all the corners.
Pop the mixture into the freezer for at least 30 mins until set firm.
Melt the chocolate in the microwave for 90 seconds and cover each Chocolate Cup generously.
Top each Chocolate Cup with several pieces of Joe & Seph's Vegan Salted Caramel popcorn, then POP your creations back in the fridge to set!