FREE UK MAINLAND DELIVERY WHEN YOU SPEND £12
Rich Vegan Chocolate Tart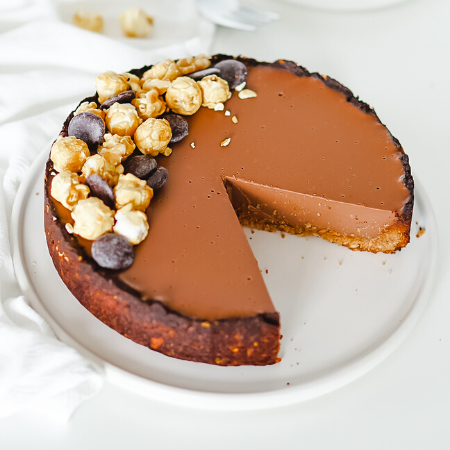 A rich and decadent vegan chocolate tart, made with wicked dark chocolate and a hint of coconut! This @mmillyjane recipe makes the perfect masterpiece to serve at any dinner party!
Ingredients:
For the crust:

125g rolled oats
150g almonds
4 tbsp coconut sugar
30g cocoa powder
4tbsp melted coconut oil
Pinch of sea salt
For the chocolate filling:
1 tin of full fat coconut milk
1 tsp vanilla extract
500g dark chocolate chips
For the garnish:
Dark chocolate drops
Joe & Seph's Vegan Salted Caramel Popcorn
Method:
Start by preheating your oven to 180

°C

.
To make the crust pulse both the almonds and oats in a food processor or blender until fine. Add sugar, cocoa powder and salt; pulse until combined. Place mixture in a bowl and add the melted coconut oil. Mix until combined.
Transfer the crust mixture to a 9-inch tart pan with a removable bottom. Press down evenly.
Bake in the centre of the oven for 15 minutes. Transfer to a wire rack to cool completely for an hour.
To make the chocolate filling, fill a bowl with the chocolate chips and bring the full fat coconut milk to a boil in a separate saucepan.
Pour the hot coconut milk over the chocolate chips and stir and combine until thick and creamy.
Then pour the mixture into the cooled tart base. Leave to set in the fridge.
Finish by adding decorating the tart with the dark chocolate drops and Joe & Seph's Vegan Salted Caramel Popcorn.
Get 5% Off when you sign up to our email club!*
Sign up for sneak peek access to our latest news!
Then receive a code for 5% off your first order when you spend £12 or more.
Thank you! We've sent you an email with your unique code.
Continue Shopping
* By subscribing you agree to the Terms and Conditions of this offer.
Sign up to our email club and you will receive a welcome email with a code entitling you to 5% off your first order when you spend £12 or more on our website. This code cannot be combined with any other code or any other offer, discount or promotion offered by Joe & Seph's. This code is valid on popcorn, caramels sauces and gifts and excludes subscriptions and international shipping charges. This code is valid for one month only or while stocks last.