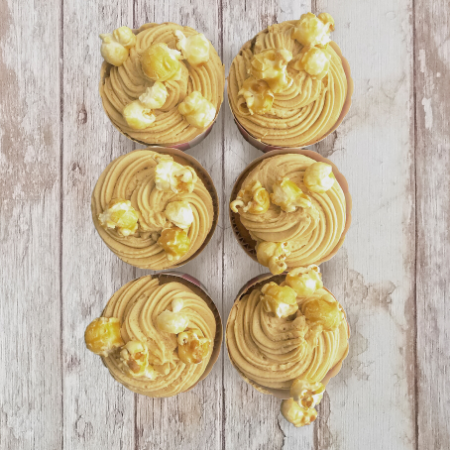 This luxurious Salted Caramel Popcorn Cupcake recipe by @sooz.chef is a rich delight with a glorious popcorn crunch! A poppin' good treat sure to impress family, friends and of course your own tastebuds - ENJOY!
Ingredients:
Cupcakes
175g salted butter
250g caster sugar
100g self raising flour
1 teaspoon baking powder
1 1/5 teaspoons vanilla extract
3 eggs ( room temperature)
175ml natural Greek yoghurt
Buttercream
125g butter (room temperature)
250g icing sugar
1 teaspoon vanilla extract
140g Joe and Sephs sticky toffee sauce
pinch of sea salt flakes
1 tablespoon double cream
A couple of handfuls of Joe & Sephs Salted Caramel Popcorn
Method:
Cake
1. Preheat the oven to 180 degrees C.
2. Beat or whisk butter and sugar until light and fluffy.
3. Add vanilla extract, and gradually add the eggs until the batter has come together.
4. In a seperate bowl sift the flour and baking powder, add to the batter a little at a time until just incorporated.
5. Add the yoghurt and mix briefly until combined.
6. Divide the mixture between 12 muffin cases in a muffin tin. Bake for 20 minutes, when an inserted cocktail stick comes out clean.
7. Transfer to a wire rack and cool.
Buttercrea
1. Whilst the cakes cool, beat or whisk the butter until light and fluffy.
2. Add the vanilla and then the icing sugar, a little at a time.
3. Pour in your Joe & Sephs Sticky Toffee sauce and a pinch of sea salt flakes as well as the double cream. Beat or whisk at a high speed until light and delicious!
4. Fill a piping bag with your nozzle of choice with the buttercream, and pipe a @sooz.chef swirly-swirl on top of each cooled cupcake.
5. Decorate with a few pieces of Joe & Sephs Salted Caramel Popcorn (and polish the rest off as a reward!)
Enjoy in front of a great movie!