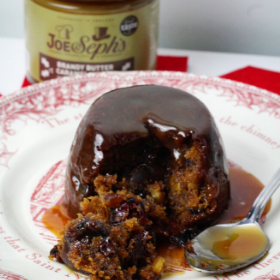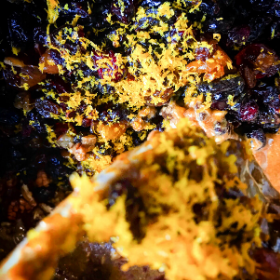 Miniature Christmas Cakes with lashings of indulgent Joe & Seph's Brandy Butter caramel sauce. Thank you to James Hillery for the recipe.
Ingredients:
225g currants
75g raisins
75g sultanas
25g dried cranberries
25g mixed peel
25g glace cherries, chopped
25g pecans, chopped
50ml brandy (or orange juice)
110g butter
110g soft dark brown sugar
3 eggs, medium
120g plain flour
1/8 teaspoon nutmeg
1/2 teaspoon mixed spice
1/8 teaspoon salt
Grated zest of 1 lemon
Grated zest of 1 orange
1 tablespoon treacle
Joe and Seph's Brandy Butter Caramel Sauce
Pre-soak the dried fruit in the brandy overnight in an airtight container.
Method:
1. Butter the small pudding tins and put a little circle of parchment paper in the bottom of each tin.
2. Cream together butter and sugar, then beat in eggs one at a time until light and fluffy.
3. Add the zest of the orange and lemon into the batter.
4. Add the treacle and beat until combined.
5. Combine the flour, salt and spices into a large bowl.
6. Add the dry ingredients into the batter and stir until combined.
7. Mix in the soaked dried fruit until distributed evenly through the batter.
8. Using a spoon, transfer about 150g of the mixture to the lined tins, smooth out the tops and cover each top loosely with a layer of buttered foil. Cut a small hole in the foil to let out steam.
9. Place in the bottom shelf of the oven and bake for about 60 minutes. Insert a skewer into each cake and make sure it comes out clean to ensure the cakes are cooked through. If a cake is not quite done, bake for an extra 10 minutes. Continue to check every 10 mins until the skewer comes out clean.
10. Cool the cakes for 30 minutes in their tins. Then remove and cool on a wire rack.
11. Drizzle Joe & Seph's Brandy Butter before serving.