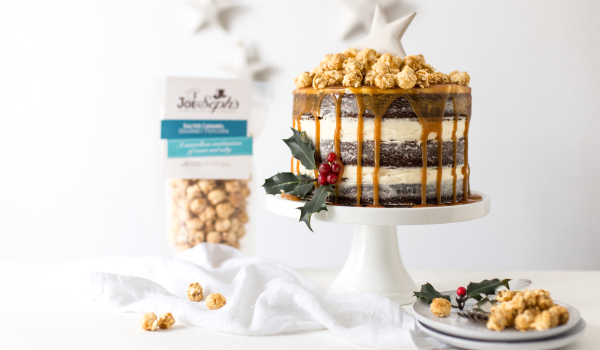 Ingredients:
For the Gingerbread Cake:
• 600g Plain Flour
• 1 x tsp Salt
• 2 x tbsp Baking Powder
• 2 x tsp Bicarbonate of Soda
• 4 x tsp Ground ginger
• 350ml Treacle
• 350ml Golden Syrup
• 350g Butter, diced
• 350ml Milk
• 6 x Stem Ginger pieces, chopped
For the Frosting:
• 1 x 8oz packet of Cream Cheese, softened
• 230g Butter, softened
• 400g Icing Sugar
• 2 x tsp Vanilla Bean Paste
To finish:
Method:
For the Gingerbread Cake:
1. Preheat oven to 180C.
2. Grease 3 x 20cm round cake tins and line with greaseproof paper.
3. In a large bowl, combine flour, salt, bicarbonate of sofa and ginger and make a well in the middle.
4. Pour the treacle, golden syrup and butter in a pan and warm gently until the butter has melted and the mixture is smooth and combined.
5. Stir in the milk and stem ginger.
6. Pour the mixture into the well of the dry ingredients and mix well into a smooth batter.
7. Pour the batter into the prepared tins and bake for about 40 minutes until risen and firm to the touch.
8. Leave the cakes to cool in their tins and then transfer to a wire rack to cool completely.
For the Frosting:
1. Beat softened cream cheese and butter together until fluffy and lump-free.
2. Slowly beat in the powdered sugar until smooth.
3. Stir in the vanilla paste.
4. Tightly cover and refrigerate for 10 minutes.
To assemble:
1. Place one layer of cake onto your stand.
2. Dollop ¼ of your frosting on top of layer and spread evenly.
3. Repeat with other 2 layers.
4. Spread remaining frosting on top and the side of the cake and then refrigerate for 1 hour.
5. Remove cake from fridge and drizzle Joe & Seph's Salted Caramel Sauce over the top, allowing it to drip down the side.
6. Top with 1 x Joe & Seph's Salted Caramel Popcorn Pouch and serve!