Thanks to @becksbake for creating THE most indulgent Joe & Seph's Masterpiece!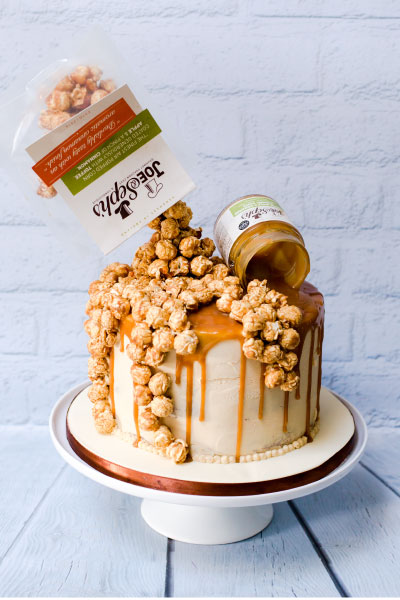 Ingredients
Cake
450g light soft brown sugar
105ml rapeseed oil
3 eggs
300ml buttermilk
1.5tsp vanilla extract
450g plain flour
5tsp bicarbonate of soda
2 heaped tsp ground cinnamon
3 dessert apples
Buttercream
500g unsalted butter at room temperature
1kg unrefined icing sugar
Decoration
Method
Grease and line 3 x 8inch cake tins. Preheat the oven to 150C (fan).
In a large bowl beat together the sugar, oil, eggs, buttermilk and vanilla extract until smooth and well incorporated.
Sieve the flour, bicarbonate of soda and cinnamon straight into the bowl and fold in until smooth.
Peel, core and chop the apples into small chunks about 1cm cubed (approx). Stir into the cake mixture.
Share the mixture between the three tins evenly, bake for 45mins or until golden brown on top and a cocktail stick comes out clean, check a couple places in case you hit a piece of apple.
Once baked leave to sit for five mins before removing from the tins and cooling completely on a wire cooling rack.
Whilst cooling make the buttercream.
Cube the butter and put the butter in a large bowl and beat well until it starts to lighten in colour.
Add the icing sugar and stir in gently to incorporate into the butter, add a tablespoon of hot boiled water to help incorporate the sugar.
Once the sugar clouds have subsided beat well to make it smooth. Add another tablespoon of hot boiled water to soften the mixture to make it easier to use.
To Decorate… Well a picture speaks a thousand words, so head to Becks Bakes to see a step by step photo guide on how to bake and construct this masterpiece!
(Thank you also to Birgit Mons Photography) http://www.birgitmonsphotography.co.uk/