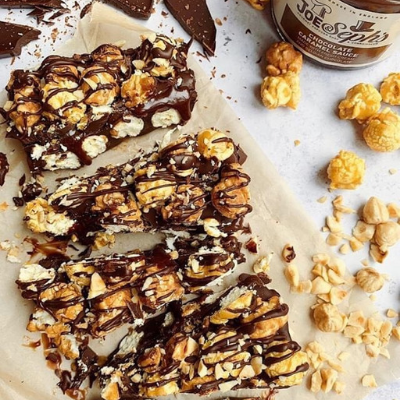 Chocolate Caramel Popcorn Slab, this no bake recipe combines chocolate, popcorn and caramel sauce for a delicious and quick-to-make treat! Thank you to @lovedbylouisa for this lovely recipe!
Ingredients: (adjust to your liking and the size of your dish)
Method:
1. Before starting, line the dish with baking paper to make it easy to remove the slab later.
2. Melt the chocolate and pour just enough to cover the bottom of the dish. Cover with a layer of popcorn and pop in the freezer to set for a few minutes.
3. Pour the melted chocolate over the popcorn layer until fully covered and pop it back in the freezer again.
4. Once set, slather a layer of caramel over the chocolate.
5. Pour a layer of chocolate over the caramel, top with another layer of popcorn and return it to the freezer for a few minutes.
6. Once out, drizzle the remaining dark chocolate over the top, scatter chopped hazelnuts over the whole thing an keep in the fridge until you're ready to tuck in. Enjoy!