The ideal treat for summer entertaining. Try these Blondies from The Culinary Bee, made using our brand new Madagascan Vanilla Caramel Sauce and our poppin' Double Chocolate Gourmet Popcorn.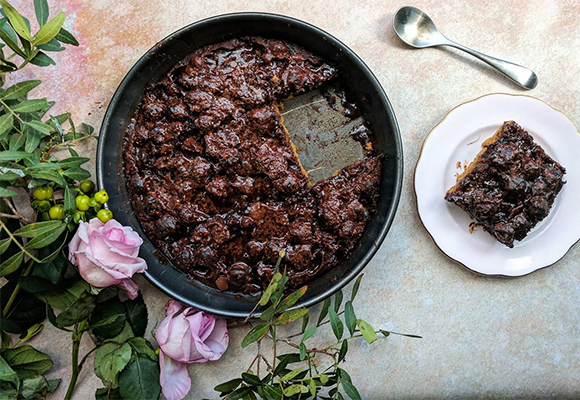 Ingredients
For the blondies
2 eggs & 1egg yolk
2 tbsp of vanilla extract
180g plain flour
120g melted unsalted butter
150g golden caster sugar
Pinch of salt
A jar of Joe & Seph's Madagascan Vanilla Caramel Sauce
For the chocolate layer
200g dark chocolate melted
100g double cream
3 handfuls of Joe & Seph's Double Chocolate Popcorn
Method
Pre-heat oven to 180 degrees.
In a large mixing bowl, pour the sugar, melted butter, vanilla extract and eggs in, and whisk together until combined. Then add the Madagascan Vanilla Sauce, flour and salt to the mixture and add to a pre-greased tin.
Put it in the oven for 30 minutes. When ready, leave to cool for 20 minutes.
In a separate bowl, pour the cream in, and set it to the side.
In a cereal bowl, break the chocolate up into squares, and melt in the microwave for 1 minute, checking every 30 seconds.
When completely melted, pour into the bowl containing the cream. Stir until you have a glossy, thick ganache.
Add the double chocolate popcorn to the ganache, stir until its completely coated. Pour this mixture on top of the vanilla blondies, smooth with a spatula, put in the fridge for 1 hour until slightly set, serve when ready to eat!