FREE UK MAINLAND DELIVERY WHEN YOU SPEND £12
Salted Caramel Cheesecake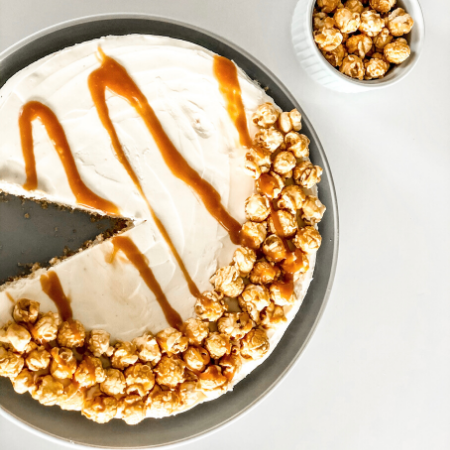 It's time to indulge in this light, yet rich! This @laurenloves2talk recipe makes the perfect weekend treat or afternoon pick-me-up!
Ingredients: Serves 10:
Method:
Place the digestive biscuits into a sealable sandwich bag. Push all the air out and seal the bag. Crush the biscuits with a rolling pin into fine crumbs.

Melt the butter in a large saucepan. Tip the biscuit crumbs into the butter and mix well until thoroughly combined. Press the buttery crumbs into the bottom of a 23cm/9in springform or loose-bottomed tin. Chill in the fridge while you make the topping.

Fold the vanilla extract into the mascarpone.

Spread the cream cheese mixture over the biscuit base and smooth the top with a palette knife or spatula. Cover with cling film and chill in the fridge for at least four hours.

When ready to serve, sprinkle Joe & Seph's Salted Caramel Popcorn on top and drizzle with Joe & Seph's Salted Caramel Sauce. Release the catch of the springform tin carefully, then slice and serve chilled.
Get 5% Off when you sign up to our email club!*
Sign up for sneak peek access to our latest news!
Then receive a code for 5% off your first order when you spend £12.00 or more.
Thank you! We've sent you an email with your unique code.
Continue Shopping
* By subscribing you agree to the Terms and Conditions of this offer.
Sign up to our email club and you will receive a welcome email with a code entitling you to 5% off your first order when you spend £12.00 or more on our website. This code cannot be combined with any other code or any other offer, discount or promotion offered by Joe & Seph's. This code is valid on popcorn, caramels sauces and gifts and excludes subscriptions and international shipping charges. This code is valid for one month only or while stocks last.

Choose your country
Please note that international shipping is available.