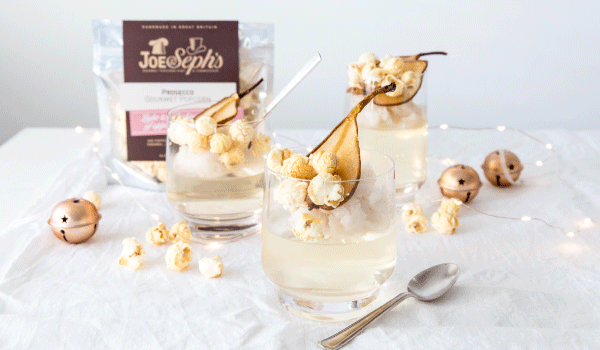 Ingredients:
For the jelly:
• 750ml Prosecco
• 165g Caster Sugar
• 7 x Gelatine leaves (preferable titanium strength), softened in cold water for 5 minutes
• 250ml water
For the Pear Granita:
• 3 x Large Pears, peeled and cored
• 460ml Water
• 350g Sugar
• 1 x Vanilla Bean
• 2 x tbsp Lemon Juice
For the Pear Wafer:
• 200g Granulated Sugar
• 2 Pears, thinly sliced
Method:
For the Jelly:
1. Bring prosecco, sugar and water to the boil in a saucepan, then remove from heat.
2. Squeeze excess water from gelatine and stir into prosecco mixture to dissolve.
3. Divide jelly evenly among 8 small glasses (about 250ml each) and refrigerate overnight to set (jelly will keep for 5 days).
For the Pear Granita:
1. Split the vanilla bean along its length.
2. Heat the water, sugar and vanilla over a medium-low heat in a saucepan, stirring occasionally until dissolved. Let cool completely and remove vanilla bean.
3. Pulse the pears in a food processor for a few minutes, scraping down the sides with a spatula until smooth.
4. Combine the pears with the cooled simple syrup and lemon juice in an airtight container and chill in the fridge for around 30 minutes.
5. Pour mixture into a large casserole or baking dish and cover with plastic wrap.
6. Place in freezer and stir ever 20 minutes until mixture is crumbly (about 3-4 intervals).
For the Pear Wafer:
1. Preheat oven to 160C.
2. Place sugar on a plate and press the pear slices into it.
3. Place the slices on baking trays lined with baking paper and bake for 15 minutes.
• Cool on wire racks until crisp.
To assemble:
1. Remove jelly from fridge.
2. Crumble 2 x heaped tbsp of the Pear Granita on top of the jelly.
3. Place a Pear Wafer onto the granita.
4. Top with Joe & Seph's Prosecco Popcorn!