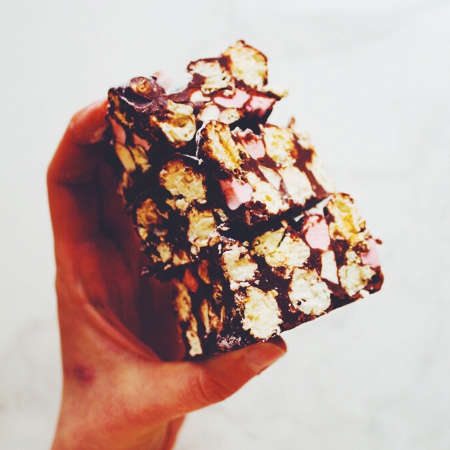 This vegan Popcorn Rocky Road Bites recipe is both indulgent rich and deliciously crunchy! Made with our Vegan Gourmet Popcorn, this delightful recipe was created by @Charlotteemmma
Ingredients:
- 100g smooth peanut butter
- 50g vegan butter
- 200g dairy-free dark chocolate
- 3 tbsp fruit syrup (or other sweetener)
- 75g vegan marshmallows
- 100g Joe & Seph vegan salted caramel popcorn
- 50g Joe & Seph vegan coconut & cacao popcorn
METHOD:

1. Melt the peanut butter, butter, dark chocolate and syrup in a large saucepan over a low heat, stirring frequently, until completely smooth. Do not allow to simmer.

2. Add the marshmallows and popcorn and stir well, ensuring everything is evenly covered with the chocolate mixture.

3. Pour mixture into a greased 18cm square baking tin and smooth over with the back of a spoon.

4. Refrigerate for at least 2 hours and then slice into 16 squares - store in the fridge!