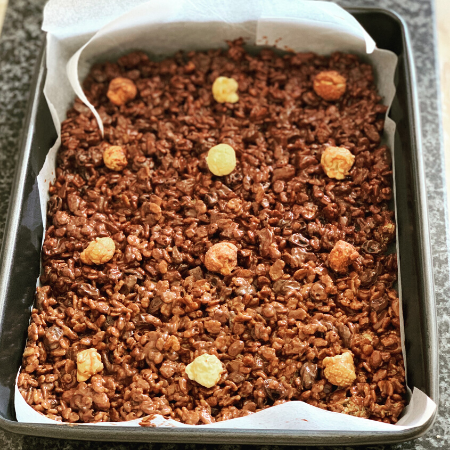 Super simple but absolutely delicious! This @misstfreefrombakes recipe makes a magnificent and comforting, classic traybake!
Ingredients: Makes 9 squares:
300g of cooking chocolate
100g of rice crispy cereal
50g of dried fruit (raisins/tropical mix)
25g crushed walnuts
25g of Joe & Seph's Chocolate Lover's Popcorn
Method:
1) Line a tin with greaseproof paper (I used a 20cm by 25cm rectangular tin
2) Melt the cooking chocolate on a low powered setting in the microwave for 3-5 minutes or until runny
3) Pour in the rice crispies, fruit and walnuts. Stir until covered with chocolate
4) Tip into the lined tin and flatten with a spoon
5) Place your pieces of Joe & Seph's Popcorn in rows on top of the mix, pushing down slightly so that they stay in place
6) Refrigerate for 2 hours or until set
7) Cut into squares using a sharp knife and ENJOY!