Our lovely friends over at Primrose Bakery have shared this delightful cake recipe with us using our very own popcorn. You will be mad not to try it, just look at that photo!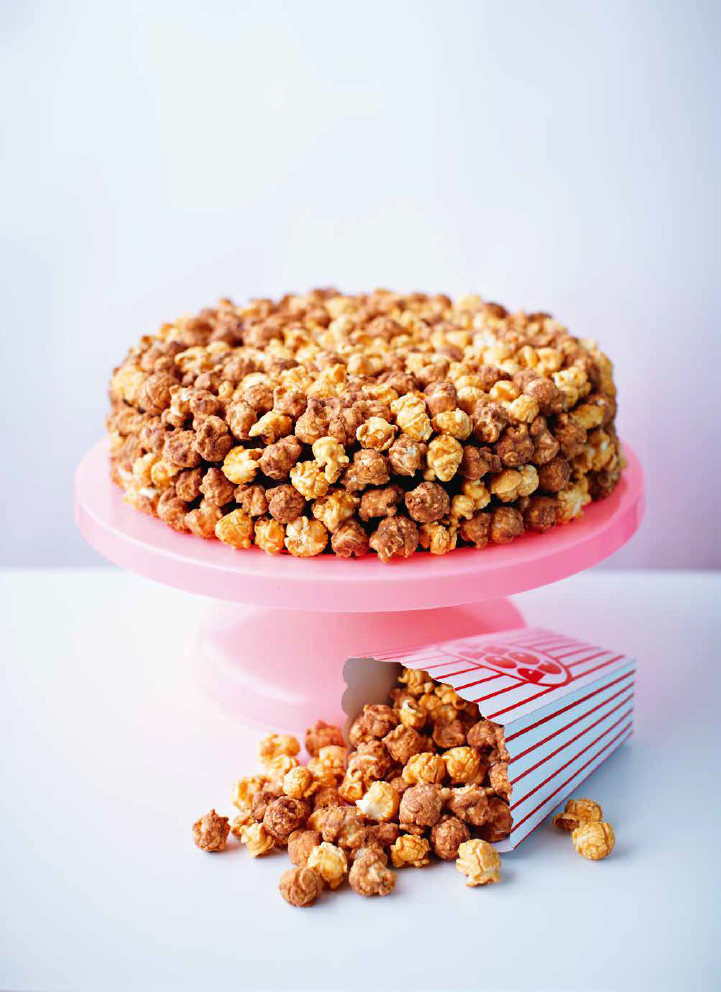 Makes one 23cm single-layer cake, serving 12-15
SPONGE
290g self-raising flour
1/4 teaspoon salt
250g unsalted butter, at room temperature
210g golden caster sugar
3 large eggs
1 teaspoon vanilla extract
200ml whole milk

1. Preheat the oven to 1800C/1600C (fan)/3500F/ gas mark 4. Lightly grease a deep 23cm baking tin and line with parchment paper.
2. Put the flour and salt into a bowl, stir to combine, then set aside.
3. In a separate bowl and using an electric hand mixer, cream the butter and sugar together for 3-5 minutes until pale and fluffy. Add the eggs one at a time, mixing well between each addition. Add the vanilla extract with the last egg.
4. Add half the flour mixture and beat until well incorporated, then pour in half the milk and mix until smooth. Repeat until all of the flour and milk is incorporated.
5. Pour the batter into the prepared tin and spread it out evenly.
6. Bake on the middle rack of the oven for 45-50 minutes, until the cake is golden brown on top and an inserted skewer comes out clean.
7. Allow to cool in its tin for 15 minutes before turning onto a wire rack to cool completely.
DARK CHOCOLATE GANACHE

300g dark chocolate (70% cocoa solids), broken into small pieces
250ml double cream

1. Put the chocolate into a heatproof bowl and set aside.
2. Heat the cream in a small pan over a low to medium heat until it starts to simmer. Be careful not to allow it to boil. Once the cream starts to simmer, immediately pour it over the chocolate.
3. Let it stand for 30-60 seconds, then stir with a wooden spoon or rubber spatula until all the chocolate has melted and the mixture is smooth.
4. Allow it to cool to room temperature.

ASSEMBLE

110g Joe & Seph's Smooth Caramel & Belgian Chocolate Popcorn
110g Joe & Seph's Salted Caramel Popcorn

1. Put all the popcorn into a bowl and mix together.
2. Ice the sides and the top of the cooled cake with the chocolate ganache.
3. Cover the sides and the top of the cake with the popcorn, gently pushing it into the ganache to ensure it sticks.
4. This cake is best served immediately, as the popcorn will start to go soft over time.
Enjoy!