Amy Fullwood has created these delicious Peanut Butter & Salted Caramel Lamingtons using our Salted Caramel Sauce. Rich with chocolate and a nutty peanut butter finish, these little treats are seriously good!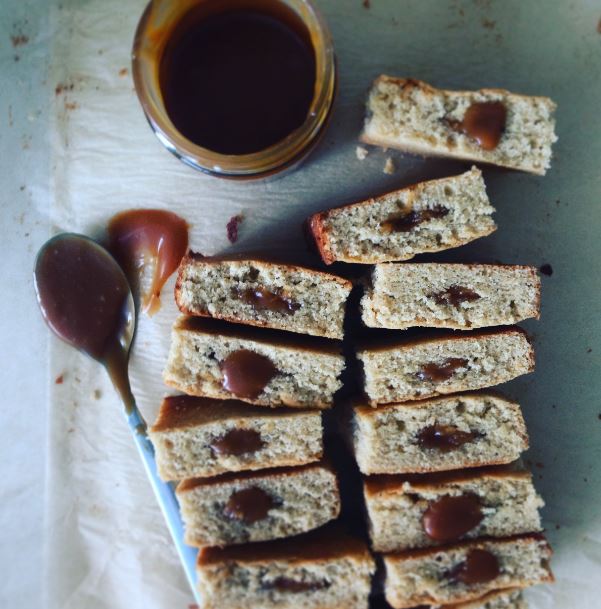 Ingredients
Makes 24
150g salted butter, softened, plus extra for greasing
170g soft light brown sugar
1 tsp vanilla essence
70g smooth peanut butter
3 large eggs, beaten
225g self-raising flour
275ml whole milk
150-200g Joe and Sephs Salted Caramel Sauce
100g 70% cocoa solids dark chocolate, broken
225g icing sugar
45g cocoa powder
350g salted peanuts, roughly chopped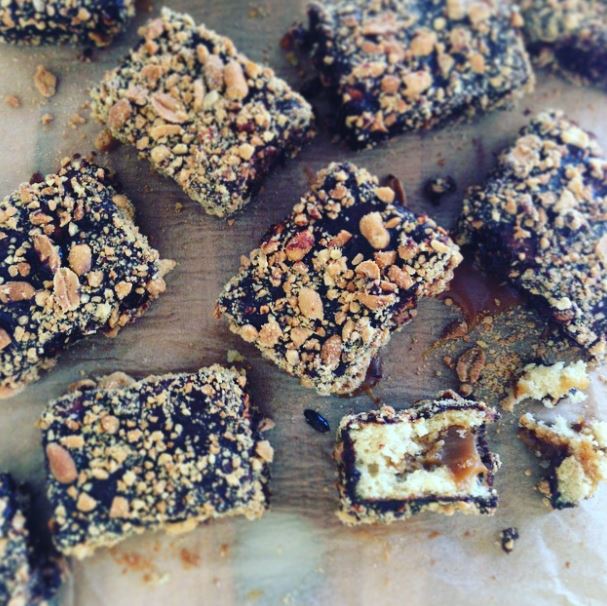 Method
1. Preheat the oven to 180°C, gas mark 4. Grease a 20cm x 25cm tin and line with baking paper.
2. Add the butter, light brown sugar, vanilla and 45g peanut butter to a large bowl and beat with an electric handheld whisk until light and fluffy. With the whisk still running, gradually add the eggs and beat until combined.
3. Fold in the flour and a pinch of salt then gradually stir in 100ml milk. Spoon the batter into the prepared tin and level with the back of a spoon.
4. Bake for 25-30 minutes or until a skewer inserted into the centre comes out clean.
5. Turn the sponge out onto a wire rack and cool completely.
6. Once cool cut into 24 pieces then make a small but deep incision in one side of each sponge.
7. Transfer the sauce to a piping bag then carefully pipe approximately 1tsp sauce into each hole. After you have filled each square stand them upright in a tupperware box, with incision side facing up. Transfer to the freezer for 30 minutes.
8. Add the chocolate and remaining peanut butter to a heatproof bowl and set over a pan of barely simmering water to melt then remove from the heat.
9. Add the remaining milk to a saucepan, set over a low-medium heat and once warm to the touch remove from the heat and sift in the icing sugar and cocoa powder, stir until combined then stir in the melted chocolate. Cool for 10 minutes.
10. Tip half the peanuts into a shallow tray. Line a large baking tray with baking paper.
11. Remove the chilled sponges from the freezer. One by one dip each sponge in the chocolate to coat and allow all the excess to drip off before gently rolling in the chopped peanuts. Add the remaining peanuts to the dish once the first batch have been used.
12. Transfer the finished lamingtons to the prepared tray and allow to set at room temperature for 30 minutes before serving.