WE'RE OPERATING AS USUAL! PLEASE KEEP PLACING YOUR ORDERS ☺
Gingerbread Cake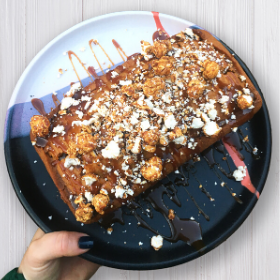 A deliciously spiced gingerbread cake with Joe & Seph's Speculoos caramel sauce. Thank you to Gee Natural for the recipe!
Cake:
175 butter

200g soft brown sugar
3 tablespoons golden syrup
250ml Oat milk or alternative
250g plain flour
2 tbsp ground ginger
2 tsp mixed spice
1tsp bicarb of soda
Toppings:
Method:
Prepare your loaf tin by greasing the sides with butter and set aside.
Pre heat your oven to 160C.
In a pan melt the sugar, golden syrup and butter until all completely melted.
Once melted add in the milk slowly and combine and set aside.
In a bowl sift in the flour, bicarb, mixed spice and ground ginger, then roughly combine the dry ingredients.
Now add the melted wet ingredients to the dry and mix well with a wooden spoon.
Bake in the oven for 1 hour OR until a skewer comes out clear.
Once cool drizzle over lashings of sauce and top with crushed popcorn.