FREE UK MAINLAND DELIVERY WHEN YOU SPEND £12
Spiced Pear Cake with Mascarpone Icing and Sticky Toffee Caramel Sauce
The delightful and wonderfully creative food blogger Katie from Katie's Kitchen Journal was given a mission to create a show stopping cake using our delicious Sticky Toffee Caramel Sauce. Katie most certainly delivered with this decadent and indulgent creation, which quite literally oozes with caramel sauce…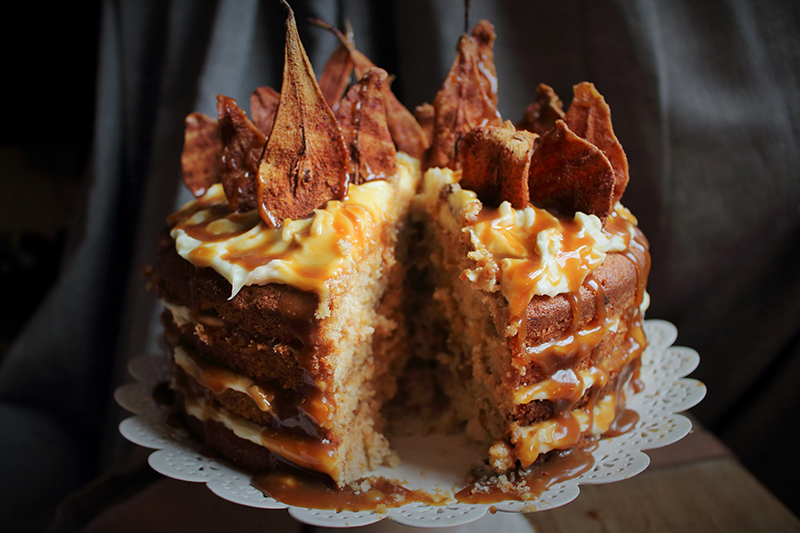 Ingredients:
For the cake:
250g salted butter
250g caster sugar
250g self-raising flour
4 medium eggs
2tbsp whole milk
1tsp vanilla extract
½ tsp ground cinnamon
½ tsp ground ginger
½ tsp ground nutmeg
150g pear, very finely diced (peeled and cored weight) – I used Conference pears
For the icing:
500g mascarpone
200g icing sugar
1tsp vanilla extract
30g very soft unsalted butter
1tbsp whole milk
For the dried pears:
4 pears (I used slightly under-ripe Conference pears)
40g caster sugar
½ tsp ground cinnamon
½ tsp ground ginger
½ tsp ground nutmeg
230g jar of Joe & Seph's sticky toffee caramel sauce
Method
Preheat your oven to 175 degrees C (fan.) Grease and line two 18cm round cake tins.

In a large mixing bowl, cream together the butter and caster sugar with an electric whisk until light and fluffy. Then gradually beat in the eggs, one at a time until fully incorporated into the mixture. (You may want to add a tablespoon or two of the flour to stop the mixture from curdling.)

Then whisk in the rest of the flour, the milk, vanilla and spices until you have a smooth cake batter. Fold in the diced pear pieces. Divide the mixture equally between the two cake tins and spread it out evenly. Bake in the centre of the oven for 25 minutes until golden and springy to the touch.

Meanwhile, prepare the pears for the topping: Peel the pears and then using a sharp knife, cut them lengthways into thin slices, retaining the core and stalk. In a large bowl, mix together the sugar and spices and then dip each piece of pear into the spiced sugar mixture to coat it. Lay the pear pieces on a wire cooling rack over a baking tray.

Once the cake is done, remove it from the oven to cool in the tins. Put the baking tray with the pears into the oven and immediately turn the heat down to 145 degrees C (fan.) Bake the pears for an hour, turning the slices half way, until they are dried out and golden.

To make the icing, beat the mascarpone in a large mixing bowl with an electric whisk until smooth. Add in the icing sugar, vanilla, butter and milk and whisk until you have a silky, lump-free icing.

To assemble the cake, cut each half into two so that you have 4 equal tiers. You will have to flatten out one of the two tops but leave the other one rounded as the very top tier.

Arrange the bottom tier of cake on your serving plate. Top with a quarter of the mascarpone icing and a layer of

Joe & Seph's Sticky Toffee Caramel Sauce.

Repeat this with two more tiers and then top the final tier with the remaining icing. Drizzle over some more caramel sauce and then top with the dried pear pieces. Serve straight away.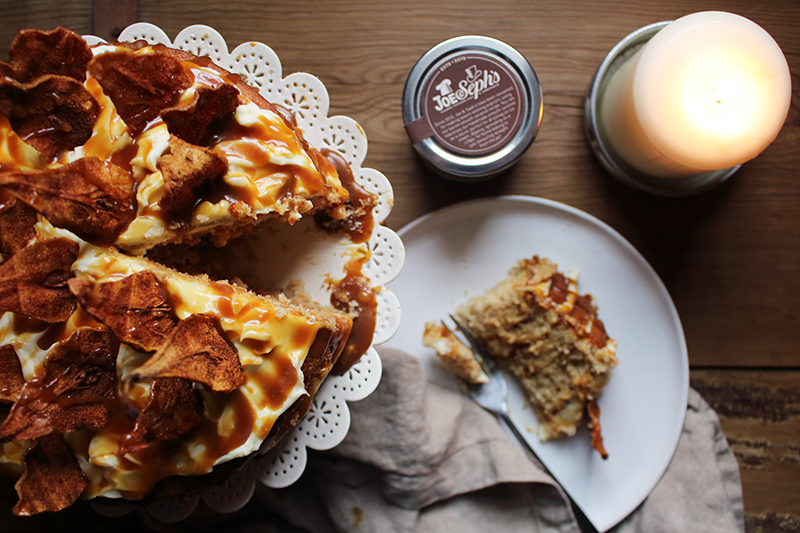 Get 5% Off when you sign up to our email club!*
Sign up for sneak peek access to our latest news!
Then receive a code for 5% off your first order when you spend £12 or more.
Thank you! We've sent you an email with your unique code.
Continue Shopping
* By subscribing you agree to the Terms and Conditions of this offer.
Sign up to our email club and you will receive a welcome email with a code entitling you to 5% off your first order when you spend £12 or more on our website. This code cannot be combined with any other code or any other offer, discount or promotion offered by Joe & Seph's. This code is valid on popcorn, caramels sauces and gifts and excludes subscriptions and international shipping charges. This code is valid for one month only or while stocks last.