FREE UK MAINLAND DELIVERY WHEN YOU SPEND £12
Eton Mess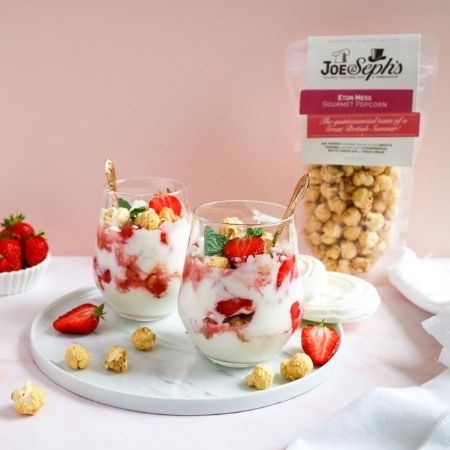 Few desserts evoke a perfect summer's day quite like a classic Eton Mess. To celebrate the launch of our summer limited-edition, Eton Mess Popcorn here's our poppin' good take on the quintessential, Victorian pudding. This winning combination of fresh strawberries, light meringue plus a glorious popcorn crunch is perfect for enjoying on a fine summers evening!
Ingredients: Makes 2:
Greek Yoghurt
Fresh Strawberries - 1 punnet
Meringue (crushed pieces)
1 tbsp sugar
Method:
Start off by washing and slicing up your strawberries.
Place them into a saucepan with the sugar and a splash of water and simmer on a low heat - keep stirring and don't take your eyes off them.
Once softened, leave to cool for a few minutes.
In 2 glasses start layering up your glass.
Start with a layer of yoghurt, then add in a good handful of Joe & Sephs Eton Mess Popcorn along with some crushed meringue pieces. Then spoon on the stewed strawberries. Keep layering up and top with the popcorn and meringue and a finishing touch of fresh mint.
Whether for a Summer dinner party of a lazy afternoon treat - it's time to enjoy! Preferrably with a glass of Pimms in hand!
Get 5% Off when you sign up to our email club!*
Sign up for sneak peek access to our latest news!
Then receive a code for 5% off your first order when you spend £12.00 or more.
Thank you! We've sent you an email with your unique code.
Continue Shopping
* By subscribing you agree to the Terms and Conditions of this offer.
Sign up to our email club and you will receive a welcome email with a code entitling you to 5% off your first order when you spend £12.00 or more on our website. This code cannot be combined with any other code or any other offer, discount or promotion offered by Joe & Seph's. This code is valid on popcorn, caramels sauces and gifts and excludes subscriptions and international shipping charges. This code is valid for one month only or while stocks last.

Choose your country
Please note that international shipping is available.