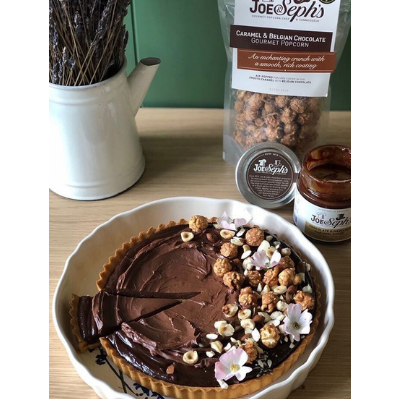 A chocolate and hazelnut tart, made with chocolate ganache and decorated with Caramel & Belgian Chocolate Popcorn. The perfect dessert for any occasion! Thank you to @meatthefoodie for this recipe!
Ingredients:
For the pastry:
200g plain four
140g cold butter, diced
1 egg yolk
Extra flour, for dusting
For the chocolate ganache:
100g dark chocolate
100ml double cream
For the topping:
Mix of nuts
Edible flowers
Method:
1. For the pastry, knead the flour and butter until the mixture resembles breadcrumbs. Add the egg yolk, 1-2 tbsp cold water and knead until the dough comes together.
2. Tip the dough and flatten into a disc, then wrap in cling film and chill for 30 miutes.
3. Heat the oven to 180c/160c/gas mark 4.
4. On a floured surface, roll out the pastry to line a 23cm loose-bottomed, deep tart tin. Place the pastry into the tin, trim the edges and prick the base with a fork.
5. Place baking parchment on top of the pastry and fill with baking beans. Bake for 20 minutes, then carefully remove the baking beans and parchment and bake for a further 5-10 minutes until light golden. Allow to cool.
6. In a small pan heat up the double cream - it doesn't need to be boiling. Chop or break the chocolate and combine with the cream away from the heat. Stir until combined. Cool to room temperature.
7. Pour the cooled chocolate ganache into the pastry tart then drizzle Joe & Seph's Chocolate & Hazelnut Caramel Sauce around the edge.
8. Decorate with Joe & Seph's Caramel & Belgian Chocolate Popcorn, nuts of your choice (we went for chopped hazelnuts) and finish with some edible flowers. Enjoy!