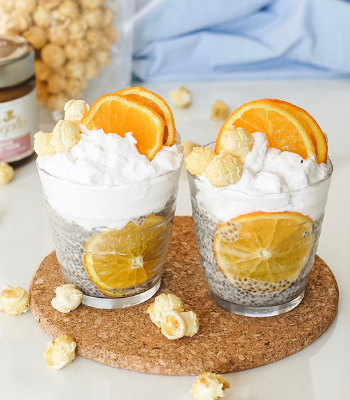 Chia seed mimosas, topped with coconut cream and our Prosecco popcorn. A big thank you to @mmillyjane for creating this Wimbledon inspired recipe perfect for summertime!
Ingredients:
Chia Pudding:
4 tbsp chia seeds
1 cup almond milk
1 tbsp honey
1 tbsp orange juice
Coconut Cream:
1 can full fat coconut milk
1/3 cup icing sugar
1/2 tsp vanilla extract
Topping:
1. Mix all the chia pudding ingredients and place in a jar overnight to set
2. For the coconut cream, chill the coconut milk in the fridge overnight. Chill a large mixing bowl in the freezer for 10 minutes before whipping, keep only top layer of cream.
3. Place cream in a mixing bowl and beat for 30 seconds until creamy, then add vanilla and powdered sugar and mix until smooth.
4. Slice oranges to use in the pudding. Fill two cups with the chia mixture, load up with coconut cream and top with orange slices and
Joe & Seph's Prosecco popcorn.