Our Gin and Tonic Caramel Sauce goes brilliantly with fruit. (Imagine fruit-flavoured gins such as strawberry, sloe or blackberry!) This tower uses American-style pancakes and makes an impressive treat for Pancake Day.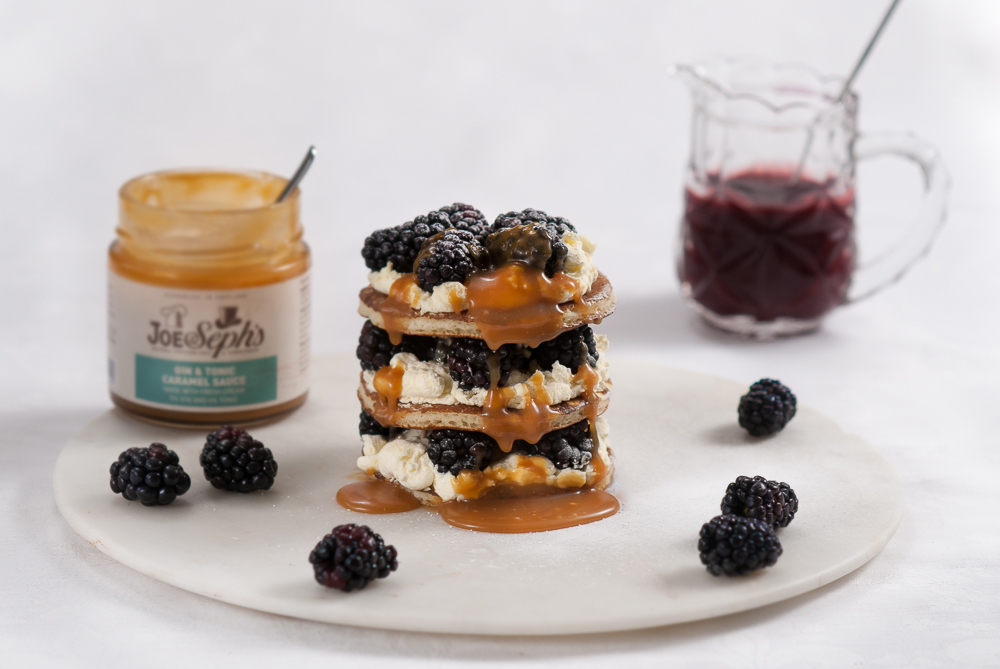 Ingredients
(4 portions)
For the pancakes:
(Makes approximately 14 x 10 cm (4 inch) pancakes.)
250g plain white flour
2 tsp baking powder
Pinch of salt
2 tbs caster sugar
375ml whole milk
2 medium eggs
2 tbs melted unsalted butter
For the fruit coulis:
340g blackberries
45g caster sugar
100ml water
For the towers:
500ml double cream
340g plump sweet blackberries
Joe & Seph's Gin and Tonic Caramel Sauce for pouring
Method
1. Set out all the ingredients and two large mixing bowls. (American pancake batters start by mixing dry and wet ingredients separately.) In one bowl measure and mix all the dry ingredients. Sieve this into the second bowl. Then measure the wet ingredients into the first bowl and mix together with a whisk. While still whisking add the dry ingredients into the wet. Only mix until combined – do not over-mix or make the batter smooth – it should be rather lumpy.
2. Heat a cast iron griddle, crepe pan, or non-stick frying pan on a medium heat. Pour a little vegetable oil on the pan and work in with a kitchen towel. Test the pan by sprinkling a little water on to the heated surface – if it splatters it is ready. Pour 60ml of batter onto the pan and let the pancake cook until most of the bubbles have appeared and broken. Flip the pancake over using a spatula. It should be browned without being burnt. Continue cooking on the other side until browned. Remove from the pan and place on a wire rack to cool.
3. To make the coulis, wash the blackberries and add to the pan with the water and the sugar. Heat the pan on a medium heat and cook until the blackberries begin to soften. Blend the berries in a processor or blender and pass through a fine sieve. Keep pushing the fruit into the sieve, extracting as much of the fruit as possible from the seeds. Serve cold or warm.
4. Using a 9 cm circular cutter, press out a disc from each of the 12 pancakes. Whisk the cream to stiff and spread onto each pancake disk. Divide the blackberries between the pancakes and construct each tower making three layers with berries between the layers.
5. Place a jar of Gin and Tonic Caramel Sauce in a small bowl of hot water for a minute or two. This will make pouring easier. Drizzle each tower with Gin and Tonic Caramel Sauce and serve with the fruit coulis.
This recipe is in collaboration with What Dad Cooked, follow them on Twitter, Facebook & Instagram @whatdadcooked.