FREE UK MAINLAND DELIVERY WHEN YOU SPEND £12
Sophie Thompson's Ice Cream Cake
The lovely Sophie Thompson, winner of Celebrity Masterchef 2014, has very kindly sent us this great recipe for Ice Cream Cake served with Joe & Seph's Chocolate & Hazelnut Sauce. We've tried it and it's a bit delicious...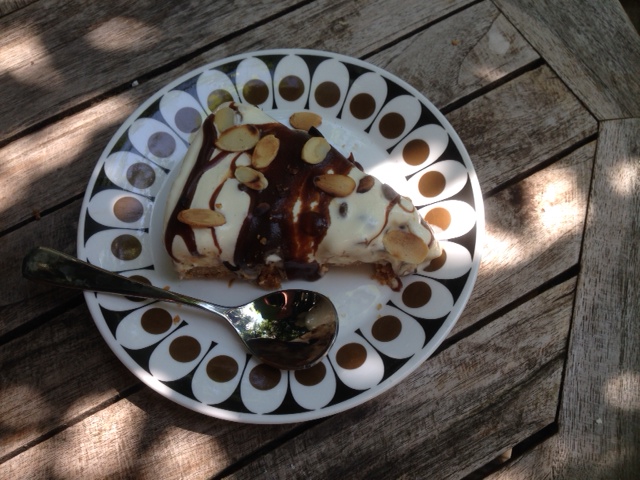 Ingredients:
300g Ginger nut biscuits
100g Butter
1.5l Vanilla ice-cream
100g Chocolate chips
25g Flaked almonds
Joe & Seph's Chocolate & Hazelnut Sauce
Method:
Take your ice-cream from the freezer and leave on the side to soften a bit.
Gently melt the butter, either in the microwave or on a low heat on the hob
Whilst the butter is melting, get your biscuits into a plastic bag (make sure it has no holes!) and give them a good pummelling with a rolling pin until you have ginger nut crumbs. Put the ginger nut crumbs into a large bowl and add the melted butter. Mix in well.
Take the butter and ginger nut mixture and pour into the bottom of a 20cm tin (a tin with a removable bottom will make lifer easier later). Press the mixture into the base of the tin.
Place your softened ice-cream into another large bowl and stir until a smooth consistency. Next, stir the chocolate chips into the smooth ice-cream, and spread this mixture evenly over the ginger nut bottomed tin. Place the tin in the freezeruntil the cake is firm (2 - 4 hours)
When you're ready to serve, remove your pudding from the freezer, and liberate from tin.
Give your Joe & Sephs a good stir to get it going, and drizzle it like a loon all over your ice cream cake.
Finally, lightly toast the flaked almonds and scatter over the pudding for an added texture.
Serve to the deserving
Get 5% Off when you sign up to our email club!*
Sign up for sneak peek access to our latest news!
Then receive a code for 5% off your first order when you spend £12 or more.
Thank you! We've sent you an email with your unique code.
Continue Shopping
* By subscribing you agree to the Terms and Conditions of this offer.
Sign up to our email club and you will receive a welcome email with a code entitling you to 5% off your first order when you spend £12 or more on our website. This code cannot be combined with any other code or any other offer, discount or promotion offered by Joe & Seph's. This code is valid on popcorn, caramels sauces and gifts and excludes subscriptions and international shipping charges. This code is valid for one month only or while stocks last.