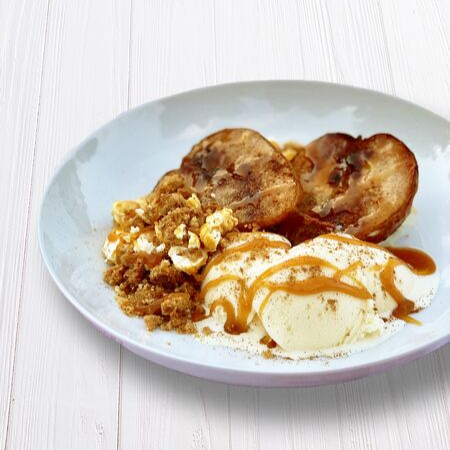 This recipe combines roasted pears with a Joe & Seph's popcorn crumble topping and Toffee Apple & Cinnamon Caramel Sauce! Thank you to @floras_kitchen_stories for this lovely autumnal recipe!
Ingredients:
For the crumble topping:
100g caster sugar
200g flour
175g cold diced butter
1 tsp baking powder
1 pinch salt
1 tsp gound allspice
1/2 pouch of Joe & Seph's Salted Caramel Popcorn
For the pears:
6 pears, halved
40g butter
2 tbsp light brown sugar
1 tsp vanilla
2 tsp cinnamon
1 tsp nutmeg
1 tsp ground ginger
For the topping:
1 jar of Joe & Seph's Toffee Apple & Cinnamon Caramel Sauce
Vanilla ice cream
Method:
1. Mix the butter, flour, sugar, baking powder, allspice and salt with your hands until it comes together into large chunks.
2. Pour out onto a lined baking sheet and bake at 180c for 25-30 minutes until nicely browned.
3. Leave to cool and then crumble into small bite sized pieces. Roughly chop the popcorn and add into the crumble mixture.
4. Increase the oven temperature to 200c. Place the pear halves onto a foil lined tray and sprinkle with the sugar, nutmeg, ginger, cinnamon and vanilla.
5. Dot with the remaining butter and then bake for 20 minutes until golden.
6. Place the warm pears into bowls, scatter the crumble topping over, add some vanilla ice cream and a generous drizzle of Joe & Seph's Toffee Apple & Cinnamon Caramel Sauce. Enjoy!