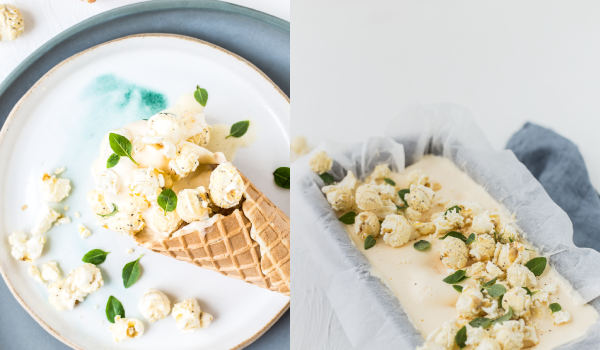 Ingredients (makes 6-8 servings):
• 4 large egg yolks
• 1 x pinch of fine sea salt
• 100g fresh goat cheese, softened
• 250g double cream
• 100g honey
• 250g whole milk
• 1 x handful of basil leaves, finely chopped (plus extra leaves to garnish)
• 1 x pouch of Joe and Seph's Goats Cheese & Black Pepper Popcorn to garnish
Method:
1. Place the softened goat cheese in a medium bowl, and gradually whisk in the cream and basil until smooth.
2. Place the egg yolks in another medium bowl.
3. In a medium, heavy-bottomed saucepan, heat the milk with the honey and salt until hot, stirring frequently. Don't let the mixture simmer or boil or the acids in the honey could cause the milk to curdle.
4. Slowly pour the hot milk into the egg yolks, whisking constantly.
5. Return the mixture to the pot and cook over a low heat, stirring constantly until the mixture thickens slightly.
6. Immediately pour into the goat cheese mixture and whisk for a minute or two.
7. Chill the mixture overnight.
8. When the mixture is chilled, churn it in an ice cream maker according to the manufacturer's instructions.
9. Scrape the ice cream into a pan of your choice, cover with a piece of cling film or baking paper pressed directly to the surface of the ice cream, and freeze until firm (for best results, freeze for minimum of 3 hours)
10. Garnish with Joe & Seph's Goats Cheese & Black Pepper Popcorn and small basil leaves.
11. Serve in a bowl or on a cone and enjoy!