A classic dessert adapted for Pancake Day by What Dad Cooked using our chocolate caramel sauce in the crepes as well as a delicious sauce..Yum!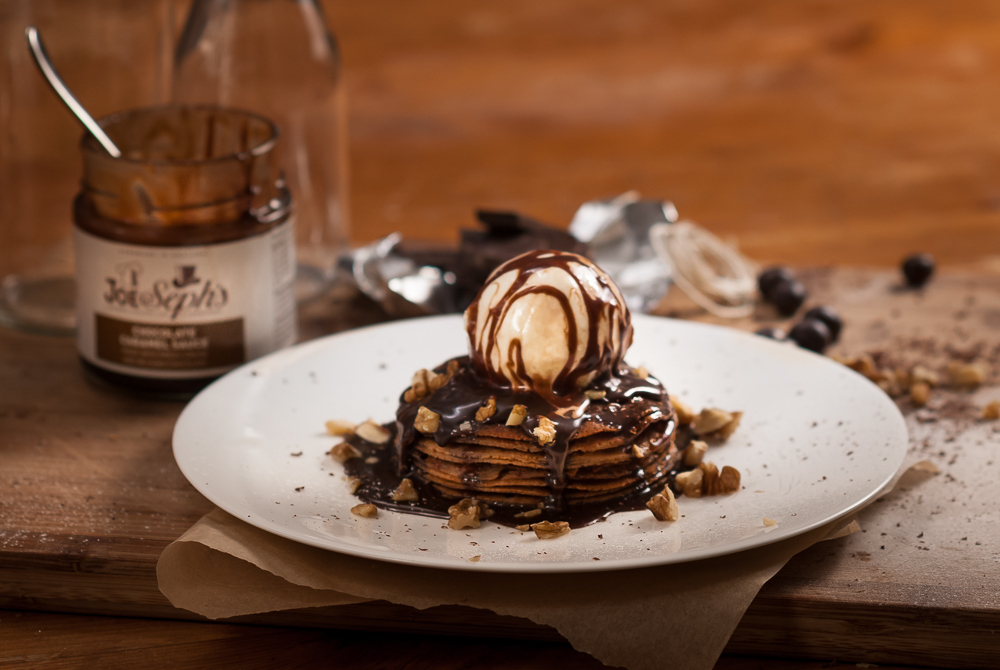 Ingredients
(4-6 portions)
For the crepes:
250g plain white flour
Pinch of salt
30g caster sugar
4 large eggs
2 tbs melted unsalted butter
600ml whole milk
100ml double cream
60ml Joe & Steph's chocolate caramel sauce
For the sundae:
100g chopped walnuts
Vanilla ice cream
Joe & Seph's chocolate caramel sauce for pouring
Method
1. In a large bowl whisk together the milk, cream, eggs, salt and sugar. Slowly whisk in the flour until very smooth. If preferred this can be done in a large food processor or blender in two batches.
2. Measure out 900ml of batter, keep the remaining batter. In a separate bowl whisk together the measured batter and chocolate caramel sauce.
3. Heat a 20cm - 24cm crepe pan or frying pan on a medium to high heat. Pour a small amount of vegetable oil on the pan and work into the surface with a kitchen towel. Use the retained batter to practise and help season the pan. (These can be kept aside for later.) Take about 70-80ml batter and pour onto one side of the pan, immediately swirl the batter around and down to cover the whole pan, pouring off the excess into a bowl (the excess can be added to the batter and used again.) When the crepe is covered in small holes and is cooked and browned on one side, carefully turn the crepe over with a spatula and cook on the other side until browned. Place the cooked crepe on greaseproof paper over a cooling rack. Interleave each crepe with greaseproof paper to make a stack.
4. Continue until all the plain batter is used and then start with the chocolate batter. The chocolate crepes will be more delicate than the plain. You should have about 12 chocolate crepes.
5. Present the sundae to your preference. Either cut 6cm circles and stack in an attractive mini tower or fold the crepes in quarters and stack or overlap on a plate. Top with a scoop of ice cream and pour over chocolate caramels sauce then scatter with chopped walnuts. (Tip: The jar of sauce can be placed in a bowl of hot water for a couple minutes to make the sauce easier to pour.)
This recipe is in collaboration with What Dad Cooked, follow them on Twitter, Facebook & Instagram @whatdadcooked.