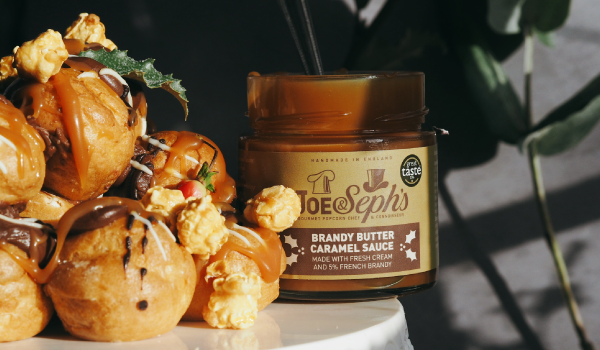 Ingredients:



For the profiteroles:
• 50g unsalted butter
• 2 x tbsp caster sugar
• 75g strong white flour
• 2 medium eggs, lightly beaten
• 300ml double cream
• 2 drops vanilla extract
For the toppings:
• 3 x tbsp Joe & Seph's Brandy Butter Sauce
• 1 x Joe & Seph's Brandy Butter Popcorn Pouch
Method:
1. Heat the oven to 200C.
2. Put the butter and 2 tsp of the sugar in a saucepan with 150ml water.
3. Place the pan over a low heat until the butter and sugar have melted, then bring to the boil.
4. Take off the heat and add all the flour at once and beat with a wooden spoon until the dough comes away from the side of the pan.
5. Leave to cool for 5 minutes then beat in the eggs bit by bit until you have a stiff, glossy mixture.
6. Rinse 2 baking trays with cold water, shaking off excess so they are slightly damp (this helps the pastry rise).
7. Using 2 teaspoons, spoon blobs of the mixture onto baking trays.
8. Place in the oven for 18-20 minutes until well risen and brown.
9. Remove profiteroles from the oven and cut a small slit in the base of each one so they don't collapse.
10. Cool on a wire rack.
11. Once cool, whip the cream lightly until just holding its shape.
12. Sweeten to taste with the remaining sugar and vanilla extract.
13. Cut the profiteroles in half and fill them with the cream and pile them up on a plate.
14. Melt your Joe & Seph's Brandy Butter Caramel Sauce in the microwave/over the hob until runny (it won't take long).
15. Drizzle the sauce over the profiteroles along with the Joe & Seph's Brandy Butter Popcorn.
16. Serve and enjoy!