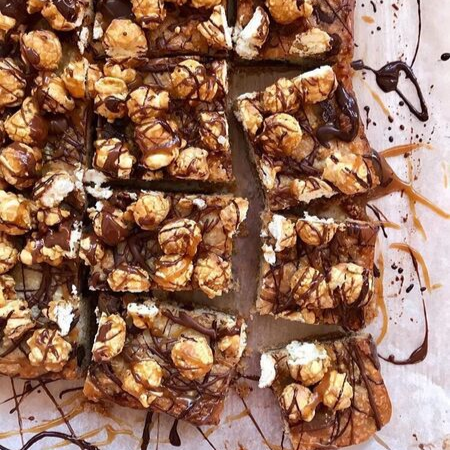 Banoffee Slices, made with a biscuit base, and topped with a banana, caramel and chocolate mix, before being topped with Banoffee Pie Popcorn and Caramel Sauce! Thank you to @drinkginandbake for this wonderful recipe!
Ingredients:
For the base:
400g digestive biscuits
125g unsalted butter
For the filling:
1 x 397g tin of condensed milk
2 large ripe bananas, mashed
100g chopped pecans
50g milk chocolate, chopped
50g dark chocolate, chopped
200g desiccated coconut
pinch of cinnamon
1 x Jar of Joe & Seph's Banoffee Pie Caramel Sauce (keep 3 tbsp for the topping)
For the topping:
Method:
1. Pre-heat the oven to 180c
2. Blitz the digestive biscuits into fine bread crumbs and melt the butter
3. Mix the blitzed digestives and melted butter and press into the bottom of the lined tin
4. Spoon the Banoffee Pie Caramel Sauce over the biscuit base
5. Mix the rest of the filling ingredients together and pour over the biscuit base
6. Pop in the oven on the middle shelf and bake for 20-25 minute until the top is lightly golden
7. Remove from the oven, allow to cool at room temperature and then pop in the fridge for a minimum of 4 hours.
8. Remove from the fridge and using a teaspoon, drizzle with the Banoffe Pie Caramel Sauce, milk and dark chocolate. Then scater the popcorn and add more caramel and chocoolate drizzle.
9. Refrigerate for 30 minutes then cut with a sharp knife into 16 squares. Enjoy!