WE'RE OPERATING AS USUAL! PLEASE KEEP PLACING YOUR ORDERS ☺
Banoffee Loaf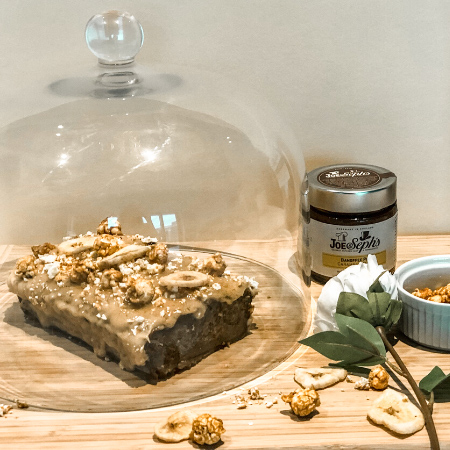 This delectable Banoffee Loaf recipe by @laurenloves2talk is perfect for tcelebrating all the a-MAIZE-ing Mums out there this Morther's Day! Handmade with love using our heavenly Banoffee Pie Caramel Sauce and Gourmet Popcorn, they are sure to impress!
Ingredients: Serves 10:
For loaf cake:
150g (5oz) unsalted butter, softened, plus extra for greasing
300g (10oz) plain flour
175g (6oz) light muscovado sugar
2 large free-range eggs, lightly beaten
1 tsp bicarbonate of soda
150ml semi-skimmed milk (or plant alternative)
3 medium, ripe bananas, mashed (the more ripe, the better the flavour)
For the Banoffee Pie Caramel Buttercream:
75g unsalted butter, softened
75g Joe & Seph's Banoffee Pie Caramel Sauce
150g icing sugar
For decoration:
Joe & Seph's Banoffee Pie Popcorn
Banana Chips (optional)
Method:
Preheat the oven to gas 4, 180°C, fan 160°C. Lightly grease a 2lb loaf tin to prevent the loaf from sticking.
Using an electric hand whisk, beat the butter and sugar in a bowl for about 5 minutes until light and fluffy. Gradually add the eggs, beating all the time. Sift in the flour and bicarbonate of soda, then gradually add the milk, until smooth.
Fold the mashed bananas into the mixture. Spoon the mixture into the prepared loaf tin and smooth the top with a spatula.
Bake for 1 hour or until a skewer inserted in the middle comes out clean. After 30 minutes of cooking, take the loaf out of the oven and cover with foil (to stop the top from getting too brown) then return to the oven for the remaining 30 minutes.
Remove the loaf from the oven and leave to cool in the tin for 5-10 minutes, before turning out onto a wire rack to cool completely.
While the loaf is cooling, make the banoffee pie caramel buttercream icing. In a bowl, beat the butter and Joe & Seph's Banoffee Pie Caramel Sauce together until smooth, using an electric hand mixer. Add the icing sugar and beat on a low speed until fully incorporated, then beat for a further 30–60 seconds on a medium speed until the mixture is smooth and lump-free.
Break up some pieces of Joe & Seph's Banoffee Pie Popcorn, leaving some whole.
Ice the top of the cooled loaf with the salted caramel buttercream icing and sprinkle over the broken pieces of popcorn. Decorate with the remaining whole pieces of popcorn and banana chips (optional).
Keep your loaf in an airtight container and ENJOY for 3–4 days!