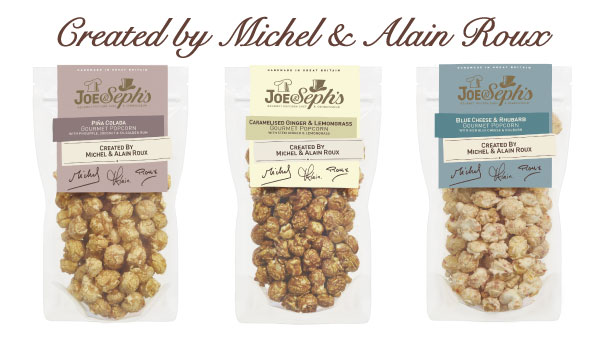 We have an exciting announcement to make at Popcorn HQ!
We've collaborated with Michelin starred father-son duo, Michel Roux Senior OBE and Alain Roux to launch a range of exclusive new limited-edition gourmet popcorn flavours!
Joseph, Michel and Alain have all been busy in the kitchens thinking up new genius flavours to coincide with the opening of the 'Brasserie Prince By Alain Roux' at Rocco Forte's Balmoral Hotel in Edinburgh.
"Our cooking is about capturing and enhancing flavours, which is exactly what Joe & Seph's popcorn manages to do in each and every kernel." – Michel Roux
The THREE new flavours include:
1. Caramelised Ginger & Lemongrass. Air-popped corn coated in smooth caramel, stem ginger and citrusy lemongrass. Sweet and spicy with a terrific zing.
2. Blue Cheese & Rhubarb. Air-popped corn coated with creamy blue cheese and sweet rhubarb. An unusual combo that complement each other brilliantly. The fruity sourness of rhubarb pairs perfectly with the tangy goats' cheese.
3. Piña Colada. Air-popped corn coated with sweet pineapple, creamy coconut and 5% golden rum to finish to really make you feel like you're on a sunny beach far away.

All our popcorn is handmade in London using a unique flavour sequencing process. We now have over 50 exciting innovative flavours and it's our mission to produce the best tasting popcorn and caramel sauces in the world! Our range has won an amazing 34 Great Taste Awards and is stocked in some of the world's most prestigious retailers. These signature flavours are now available to purchase here on our website, and of course the new Brasserie in Edinburgh.