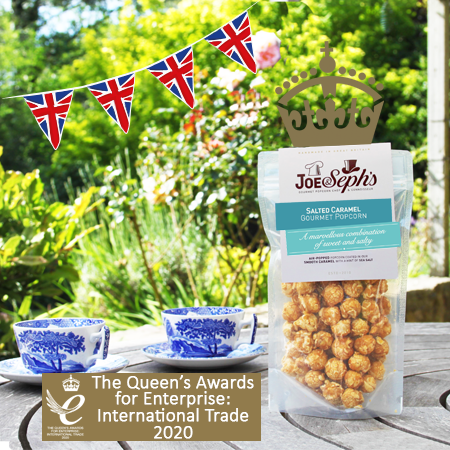 It's an absolute privilege to announce that this year we have been honoured with a Queen's Award for Enterprise in International Trade - what a way to commemorate our 10th birthday year!
Why did we win a Queen's Award?
This year, Joe & Seph's is one of just 220 organisations to be recognised with a prestigious Queen's Award for Enterprise throughout the UK. We're honoured to be recognised for excellence in international trade, having tripled our overseas sales in the last three years.
As a small family business started from Joseph's kitchen table in 2010, after many years of hard work and burnt pans we're absolutely over the moon to now be recognised for helping put Britain on the map for fine food around the world!
This award has been made possible due to the a-MAIZE-ing commitment of the J&S team! Consisting of 60 fun-loving popcorn fanatics, our team carefully handcraft, pack, distribute and sell our award-winning popcorn all from our North London kitchens.
What a Queen's Award means to us?
Co-founder of Joe & Seph's, Adam Sopher comments: "We launched Joe & Seph's in 2010 during the recession and quickly learnt to focus on quality, innovation and customer service. I'm very proud that it's these attributes that have set us apart as and led to our Queen's Award success!
It is an overwhelming privilege to now be recognised by the Queen's Award for Enterprise on our 10th anniversary year! I would like to thank every one of our customers, supporters and suppliers, as it's you who have made this all possible. We look forward to continuing to showcase the best of British to the world into the next decade and beyond!"
What are the Queen's Awards?
The Queen's Awards for Enterprise are the most prestigious business awards in the UK. All winners are approved by both the Prime Minister and Her Majesty The Queen!
The awards were first established in 1965 and since then over 7000 companies have achieved a Queen's Award.
The awards celebrate the success of exciting and innovative businesses which are leading the way with pioneering products or services, delivering impressive social mobility programmes or showing their commitment to excellent sustainable development practices.