FREE UK MAINLAND DELIVERY WHEN YOU SPEND £12
The World's Most Famous Tabby Cat Now Has Her Own Popcorn!
Friday 8th May 2020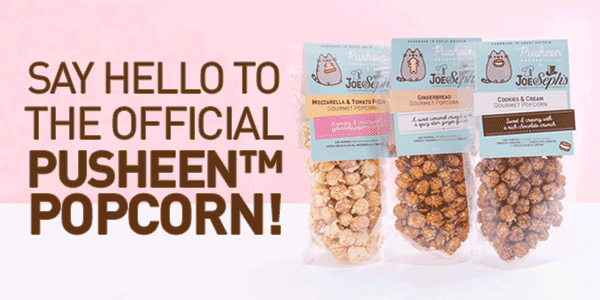 Drum roll please… we're delighted to introduce our Official Pusheen™ Popcorn collaboration! Featuring the famous tabby cat's three favourite snacks in delicious, gourmet popcorn form, including: moreish Cookies & Cream, spicy Gingerbread and cheesy Mozzarella & Tomato Pizza!
If you aren't familiar with Pusheen, let us introduce you… she's a sassy, friendly cartoon cat, famed since 2010 for her Facebook stickers. She loves to nap and snack and is on a mission to bring smiles and laughter to people all around the world - which we think sounds pretty PURR-FECT right now!
This lockdown, treat yourself or make someone special smile from afar with our new, PAWSOME Pusheen popcorn!
Get 5% Off when you sign up to our email club!*
Sign up for sneak peek access to our latest news!
Then receive a code for 5% off your first order when you spend £12.00 or more.
Thank you! We've sent you an email with your unique code.
Continue Shopping
* By subscribing you agree to the Terms and Conditions of this offer.
Sign up to our email club and you will receive a welcome email with a code entitling you to 5% off your first order when you spend £12.00 or more on our website. This code cannot be combined with any other code or any other offer, discount or promotion offered by Joe & Seph's. This code is valid on popcorn, caramels sauces and gifts and excludes subscriptions and international shipping charges. This code is valid for one month only or while stocks last.

Choose your country
Please note that international shipping is available.