So, you might have seen that in May we launched the first official Marmite popcorn – it's one of our proudest partnerships to date and something we've been excited about launching for months now!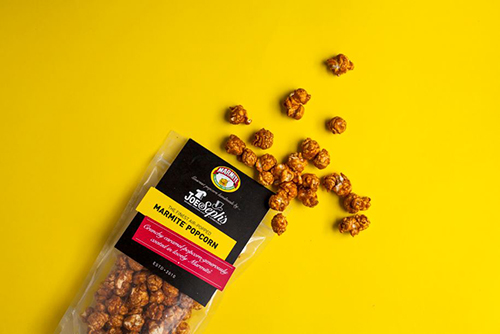 We've been working with Unilever UK, who own the licence for Marmite, on this project for nearly two years now since the day we first got in touch to the launch date on the 27th May 2016.
We've always loved coming up with new flavours for our popcorn, always on the lookout for new ideas (many of which are suggested by our lovely fans on social media and at shows!), and creating a Marmite popcorn is something we've wanted to do for a long time as it is such an iconic British brand and we knew it would taste fantastic on our corn.
After putting together a very detailed commercial proposal, we were naturally delighted when Unilever selected Joe & Seph's to create the first official licenced Marmite Popcorn and got cracking with the challenge straight away! This involved a number of meetings with Unilever's licencing and technical teams, before we began experimenting in the kitchen to try and get the perfect balance of Marmite flavour. After this we set about completing all of the technical specifications, working with our designers to create the packaging, speaking to our customers to sell the product, as well as creating a marketing and PR plan for the launch – so it's a fantastic feeling to finally see it on the shelves!
We've loved seeing the reaction so far (which has been largely positive – thankfully more seem to "Love it" than "Hate it"!), and are delighted to have been featured in the Telegraph, Mashable.com and the Metro newspaper as well as a huge reaction on social media. Thanks so much for your support!
We hope you'll enjoy our Marmite popcorn- which you can check out right here. Let us know what you think using #MarmitePopcorn or emailing us joe@joeandsephs.com!