We really have been spoiling you with new flavours recently and this week is no different!
We have had to keep this a big secret for a while, so we are absolutely thrilled to finally announce that to celebrate the highly anticipated release of Steven Spielberg's The BFG film this Summer, we have created a brand new Limited Edition Frobscottle Popcorn.
Our Frobscottle Popcorn is a whizz-popping blend of caramel, fruity raspberry & refreshing mint and you can check it out here: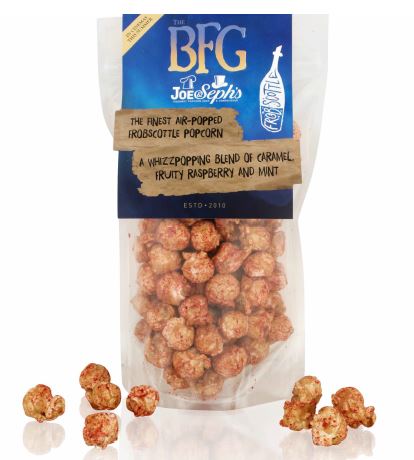 Frobscottle is a drink found in the Giant Country where the BFG lives - the Frobscottle bubbles go down instead of up and drinking too much can result in a severe case of the "whizz-pops"!**
The BFG might say it is "bunk-doodling, glummy, glumptious bugwhiffles" (that's giant language for inspiring, tasty, yummy stuff!)
We'll be selling it for a limited time on our website, as well as in Cineworld, Curzon, Empire, Scott Cinemas and some Picturehouses, as well as Selfridges. Let us know what you think of our Frobscottle popcorn on social media using #frobscottlepopcorn!

**Joe & Seph's Frobscottle popcorn does not cause whizz-popping. If you experience consistent whizz-popping, please consult a Doctor.