DON'T LEAVE IT TOO LATE!

For those of you who have a habit of leaving your Christmas prezzies to the last minute, we wanted to make you aware of our final order dates for guaranteed delivery in time for Christmas...


Any orders received after these dates we'll still do our best to get them to you in time, but we can't guarantee they will arrive by the 25th December. As our elves are a little busier at this time of year, we might take a little more time processing and dispatching your order, so please allow for an extra day or two for your popcorn to arrive. If you have any special requirements then please do get in touch and we'll do our best to help!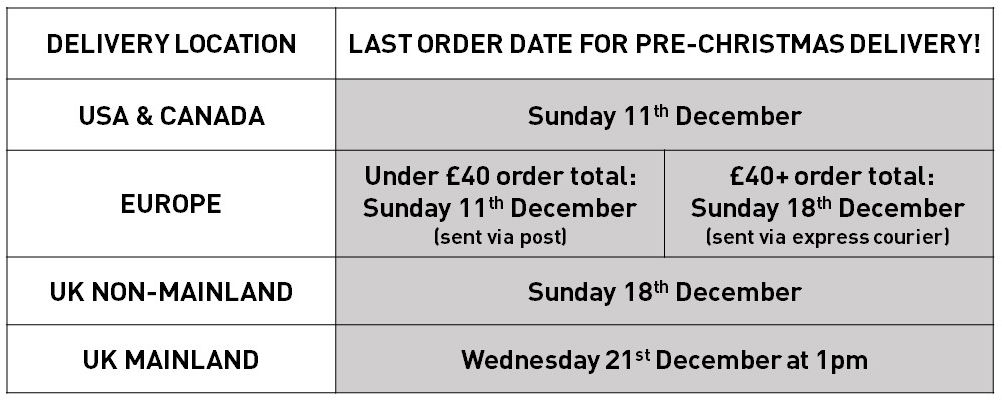 USA/ Canada: 11th December (sent via TNT)

Europe: 11th December if under £40 (sent via Royal Mail) / 18th December if over £40 (sent via express courier)

UK non-mainland - 18th December (sent via Royal Mail)
UK mainland - Wednesday 21st December at 1pm (sent via FedEx)
SEASONAL CLOSE DOWN

Please note that our offices will be closed from Saturday 24th December – Monday 2nd January inclusive for a break from popping! Any orders placed during this period will be picked up when we return in the new year and dispatched that week. During this time we can't guarantee that we'll be able to respond to any queries although we'll do our best to pick up any urgent queries.
Head to our popcorn shop to explore our range of flavoured popcorn and caramel sauces now...
Happy shopping!

J&S