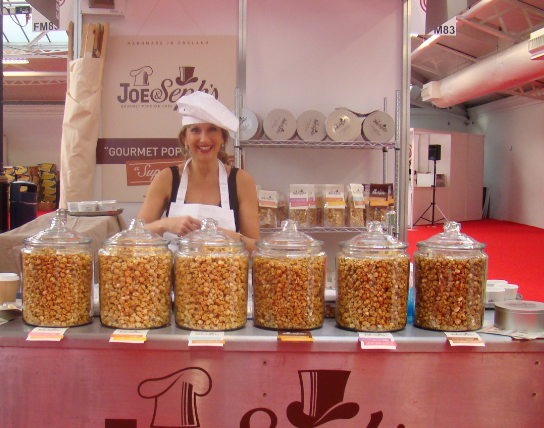 With Mother's Day on the horizon we thought we would shine a spotlight on the mother of Joe & Seph's, Jackie Sopher.
As a family run business Jackie works side by side with her husband Joseph and two sons, Adam and Paul, which quite frankly is an achievement in itself! But more than that Jackie has very much adopted a maternal role to the kitchen & warehouse teams she looks after, and on her last birthday was described as the 'best boss ever'!
So, who is the Mother of Popcorn?
Jackie, who is now more commonly known for her sell out QVC performances wasn't always the TV star that she is today... Her professional career began at Texas Homecare where she was a successful buying assistant, however what Jackie prides herself on most is her role as mother to 3 children, Adam, Paul and Louise.
In 2010, she set up Joe & Seph's with Joseph and their eldest son Adam and haven't looked back since!

What does Jackie do at Joe & Seph's?
It's probably easier to list what she doesn't do to be honest! Much like her household, Jackie keeps things running at Joe & Seph's. She looks after the warehouse, kitchens and distribution teams, making sure the popcorn is popped, packed and shipped on time and tasting great, so it is fair to say there is never a quiet day for Jackie! When she isn't solving HR related matters or managing stock levels, she is also busy looking after payroll and paying the bills. So between finance, stock control and staff management it is fair to say Jackie is at the very heart of the business and that is exactly where we want our mother of popcorn to be. And to think she manages to do all of this in 6 inch heels…
We asked Jackie to comment on what life is like working with her two sons and she told us that she "must be the envy of all mothers out there. She feels extremely privileged to be able to spend every day with the people that matter to her most. It makes her job that much more important and something she really cherishes." N'aaww.
A Few Facts:
· Favourite Popcorn Flavour: Goat's Cheese & Black Pepper
· Favourite part of the job: Going to shows (and getting my hair done for QVC!)
· Least favourite part of the job: paperwork!
· Most memorable Joe & Seph's moment: Being invited to the Houses of Parliament
· Celebrity Crush: George Clooney…obviously.