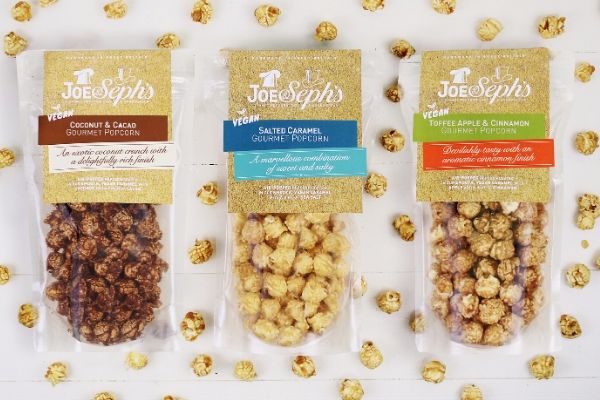 LAUNCHING THE UK'S FIRST VEGAN CARAMEL POPCORN RANGE, IN TIME FOR WORLD VEGAN DAY
We are delighted to launch a brand new vegan range with all the indulgent, caramel goodness of our core collection. For years we have had requests to make a vegan alternative to our traditional caramel flavours; we've worked hard to create an equally delicious vegan range for our our loyal fans that have special dietary requirements and don't want to compromise on taste!
Three new additions will be joining our cult classics, in both sharing pouch and snack pack form: Vegan Salted Caramel, our signature flavour is recreated using a moreish vegan caramel, the perfect combination of sweetness and salt; Vegan Toffee Apple & Cinnamon, a vegan take on one of our most popular flavours, it's a devilishly tasty treat, with an enticing cinnamon aroma, reminiscent of the classic autumnal treat; Vegan Coconut & Cacao, an all-new flavour, especially created for ourvegan audience, expect an exotic coconut crunch with a delightfully creamy, chocolate-y finish.
Having spent nine years perfecting our new Vegan recipes, Joseph is delighted to see our newest innovations finally launch! As with all our gourmet products, our new Vegan Gourmet Popcorn Range is handmade using only the finest natural ingredients, with an unerring attention to quality. Joseph says: We've wanted to create a vegan range that truly echoed our cult-status series of indulgent popcorn flavours since we began. Never wanting to compromise on taste or ingredients, we've finally nailed our new vegan caramel, we can't wait to bring our popcorn to even more households, and bring Joe & Seph's back to those who've recently chosen to go plant-based."
Whether it's as a moreish cinema treat, an indulgent end to a dinner party or a tempting snack to go with your round of tea, Joe & Seph's will be on hand for a satisfying and tasty bite.