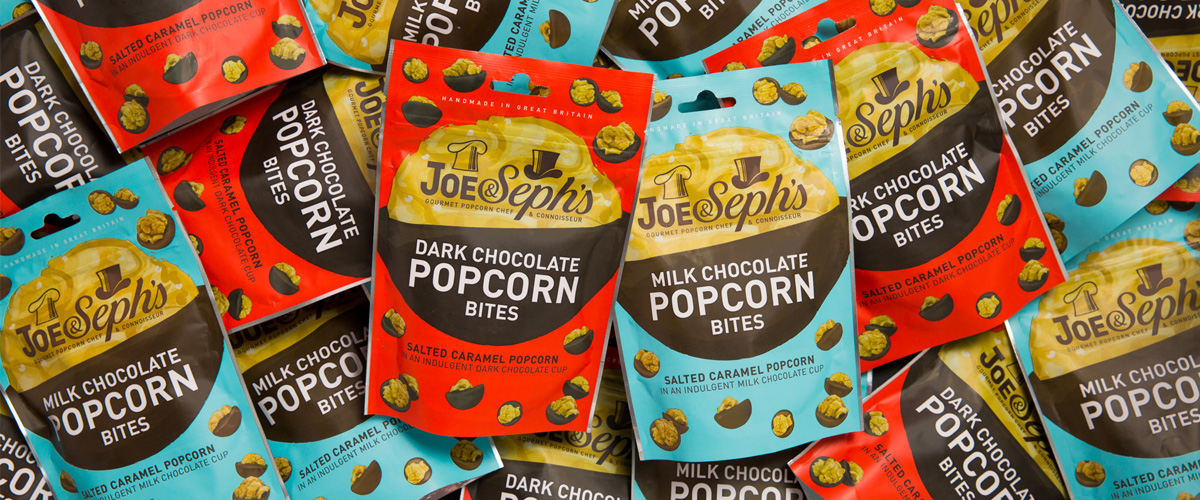 We're so proud to announce the launch of our CHOCOLATE POPCORN BITES, featuring our famous Salted Caramel Popcorn, individually placed in a smooth, indulgent chocolate cup. Available in both milk and dark chocolate, our latest creation is the first of its kind, created by Joseph after two years of experimenting in the kitchen (not to mention, countless trial batches and plenty of burnt pans!).
Prepare your taste buds for a totally new and deliciously decadent experience: starting with silky, melt-in-your mouth chocolate, followed by smooth caramel, a hint of sea salt and lastly a satisfying popcorn crunch!
Joe & Seph's Milk Chocolate Popcorn Bites from Joe & Seph's Gourmet Popcorn on Vimeo.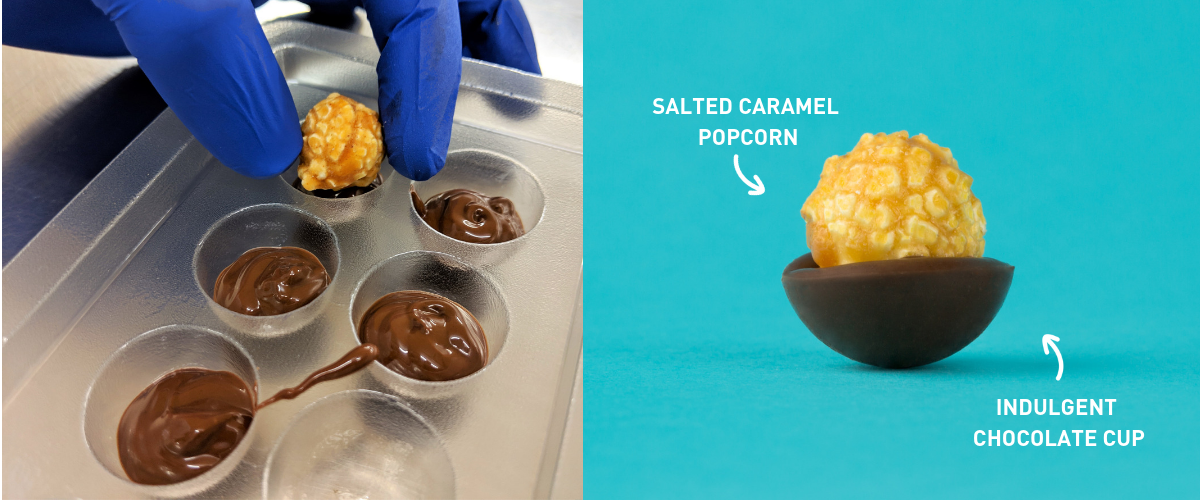 At Popcorn HQ, we never compromise when it comes to taste and quality, our Chocolate Popcorn Bites are handmade in Great Britain using only the finest natural ingredients!
It all starts with Joseph and his team of pastry chefs in our London kitchens, where we lovingly air-pop our "extra-large" mushroom kernels before coating them by hand in our unique Salted Caramel Sauce. Finally, each piece of our Salted Caramel Popcorn is individually placed, in a cup of luxurious chocolate!
It's a long process, but for the indulgently moreish taste it's certainly worth it! Joseph says: "You've honestly never tasted anything like it!".
Joseph's Chocolate Popcorn Bites Interview from Joe & Seph's Gourmet Popcorn on Vimeo.
So, whether it's for gnawing on-the-go or tucking in with fellow snacking pros, our Chocolate Popcorn Bites are the delightfully moreish, naturally indulgent snack you've been searching for! Grab a pouch NOW from our online popcorn shop or at in the confectionary aisle at Sainsbury's, as well as: Ocado, Harvey Nichols, John Lewis Oxford Street, Picture House Cinemas, Empire Cinemas or one of our prestigious independent retailers!

See below the full list of 200+ Sainsbury's stores stocking our CHOCOLATE POPCORN BITES:
Abbey Wood, Alphington Rd, Alton, Amblecote, Apsley Mills, Archer Rd, Ashton Moss, Badger Farm, Bagshot Rd, Bamber Bridge, Barnstaple, Barnwood, Bath Odd Down, Beaconsfield, Beckton, Beeston, Berryden Rd, Bishop Auckland, Bishops Stortford, Bitterne, Blackhall, Blackpool, Bognor Regis, Bolton, Bracknell, Braehead, Bramingham Park, Brentwood, Bridgemead, Bridgend, Bridgwater, Broadcut, Bromley, Brookwood, Burpham, Burton on Trent, Bury St Edmunds, Bybrook, Camberley, Cameron Toll , Canley, Cannock, Canterbury, Carlisle, Castle Boulevard, Castlepoint, Chafford Hundred, Cheadle, Chichester, Chingford, Chippenham, Christchurch, Cobham, Colchester Ave, Coldhams Lane, Colne, Court House Grn, Crayford, Cromwell Rd, Crystal Palace, Crystal Peaks, Cwmbran, Darlington, Darnley, Dartford, Didcot, Dunstable, Durham, East Kilbride, Edenthorpe, Edgware, Edinburgh Longstone, Ellesmere Port, Ely, Enfield, Farlington, Ferndown, Fosse Park, Fulham Wharf, Garthdee, Godalming, Grimsby, Hadleigh Rd, Halifax, Hamilton, Hampden Park, Hankridge Farm, Harlow, Haverhill, Hayes, Haywards Heath, Hazel Grove, Hedge End, Hempstead Valley, Hendon, Herne Bay, Heyford Hill, High Wycombe, Hinckley, Huntingdon, Hythe, Irvine, Isle of Wight, Keighley, Kempshott, Kempston, Kiln Lane, Kings Lynn Hardwick, Ladbroke Grove, Larkfield, Lee Grn, Leeds Colton, Leek, Leicester North, Lincoln, Livingston, Locksbottom, Longbridge, Longwater, Lords Hill, Low Hall, Luton, Lyons Farm, Macclesfield, Maidstone, Mansfield, Marsh Mills, Marshall Lake, Maypole, Melton Mowbray, Mere Grn, Merton, Milton Keynes, Nairn, Nantwich, Newbury, Newbury Park, Newcastle U Lyme, Newport, Newry, North Cheam, Northfield, Nuneaton, Oakley, Oldbury, Oldham, Osmaston Park. Penzance, Pepper Hill, Pinhoe Rd, Pontllanfraith, Pontypridd. Pound Lane, Preston, Purley Way, Queens Rd, Rayleigh Weir, Redditch, Reedswood, Rice Lane, Romford, Rugby, Rustington, Salford, Scarborough, Scunthorpe, Sedlescombe Rd, Sevenoaks, Sheffield Wadsley Bg, Shorehead, Shrewsbury, Slough Uxbridge Rd, South Woodford, Southmpton Portswood, Spalding, Springfield, St Clares, Stafford, Staines, Stanway, Stoke on Trent, Stratton, Streatham Common, Sudbury, Sunderland, Sunderland North, Sutton, Sydenham, Talbot Heath, Team Valley, Telford, Thanet Wt Wood Cross, Thetford, Thornhill, Torquay, Trowbridge, Truro, Upton, Wakefield IngsRd, Wakefield Marsh Way, Warlingham, Warren Heath, Warrington, Warwick, Washington, Water Lane, Waterlooville, Wednesfield, Weedon Rd, Wellesbourne, Welwyn Garden City, West Belfast, West Grn, West Hove, West Park Farm, Weymouth, Whitley Bay, Winnersh, Worle, Wrexham.