FREE UK MAINLAND DELIVERY WHEN YOU SPEND £12
Cracking into the new year
Monday 5th January 2015
We have added a new flavour to our ever- growing list of all natural, air- popped gourmet popcorn. Caramelised Sea Salt & Cracked Black Pepper is not only a favourite amongst the office but also the people at Great Tast who have given it an award! Enjoy the salty and sweet contrast of the caramelised Salt before a hit of cracked Black Pepper.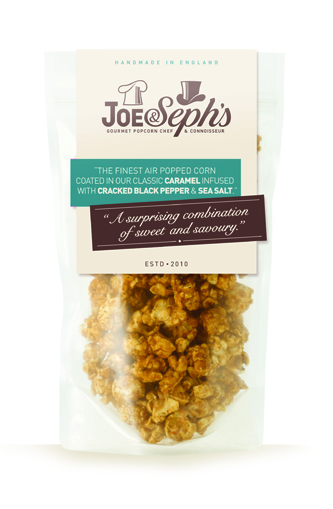 Get 5% Off when you sign up to our email club!*
Sign up for sneak peek access to our latest news!
Then receive a code for 5% off your first order when you spend £12.00 or more.
Thank you! We've sent you an email with your unique code.
Continue Shopping
* By subscribing you agree to the Terms and Conditions of this offer.
Sign up to our email club and you will receive a welcome email with a code entitling you to 5% off your first order when you spend £12.00 or more on our website. This code cannot be combined with any other code or any other offer, discount or promotion offered by Joe & Seph's. This code is valid on popcorn, caramels sauces and gifts and excludes subscriptions and international shipping charges. This code is valid for one month only or while stocks last.

Choose your country
Please note that international shipping is available.