BBC Good Food Show, London
Tuesday 25th October 2016
We're back at BBC London Good Food Show this November and it's a very special event for all of us at popcorn HQ as it's where Joe & Seph's began 6 whole years ago...
We made a whopping 40kg of popcorn in the family kitchen which we packed in to giant tubs to then HANDPACK the individual bags to order (something we will never attempt to do again!)
Fully expecting to return with a car full of leftover popcorn, we spent the journey to the show on the phone to local hospitals and restaurants to see if they had any need for some leftover gourmet popcorn but thankfully for us it seemed to go down very well... we sold out entirely before the end of day two!
Here's Jackie on our somewhat makeshift stand back in 2010...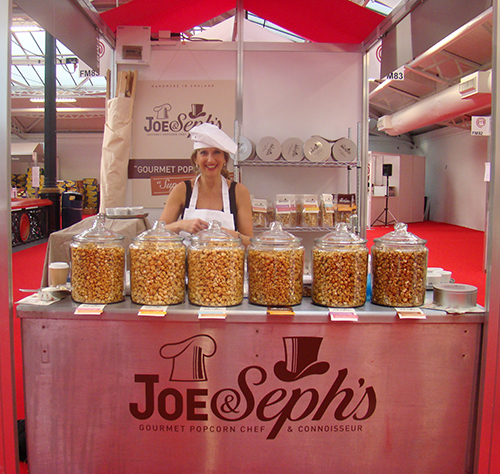 If you're planning to go to the show, please do pop by our stand (PV56) and say hi - we'll have lots of new flavours to try including our Double Chocolate Popcorn, Marmite Popcorn and old favourites like Mince Pie, Salted Caramel and Goats Cheese & Black Pepper. We'll also be showcasing our brand new Brandy Butter Caramel Sauce, and our GIANT cracker!
See you there.
J & S x