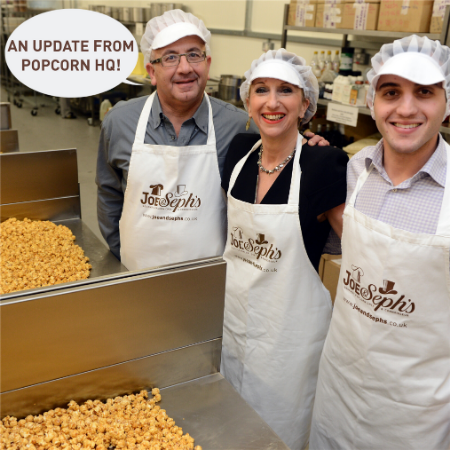 During these uncertain and slightly bonkers times, we wanted to give you a little update from us!
Our online shop www.joeandsephs.co.uk is still operating as usual, so if you are struggling to get to the shops and wanted to stock up (did someone say movie night?), our full gourmet range is available online, with FREE UK DELIVERY on all orders of £12 or more! As a small, family business we appreciate your enduring support so much!
Needless to say, it's very challenging out there for so many small businesses like us, with sales disappearing and events being cancelled. If you are stocking up, please try and support your local small businesses on the high street and online – lots of us have quite a bit of stock!
Secondly, we've taken strict measures to ensure the safety of our team and are still able to operate as usual. So, if you are at home and fancy a quick chat you can still call or email us as normal or get in touch on our social media accounts! We'd love to have a chat to you, whether that's to update you on your most recent order or discuss our many weird and wonderful flavours! Please stay safe and don't forget to wash those hands . Love Joseph, Jackie, Adam and J&S team